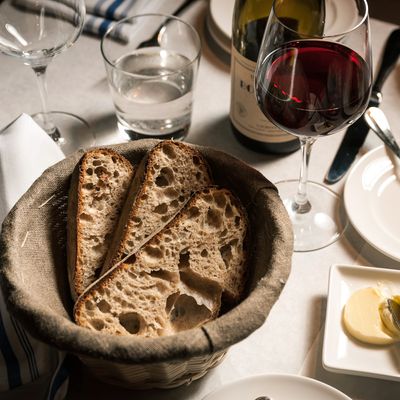 Lafayette makes its organic pain de campagne in house.
Photo: Noah Fecks
A funny thing happened when, several years ago, New York's restaurants by and large did away with complimentary bread baskets and instead started charging for it: The quality of the bread, butter, and olive oil increased dramatically. After all, bread was now a full-on menu item, not some throwaway freebie. And now — as Adam Platt and Michael Pollan point out in this week's New York — it's "a golden age of bread." Restaurants as varied as Aska, Maysville, and Carbone prove that all dinners benefit from the addition of high-quality carbs. And very recently, something even more unexpected has started happening: Some restaurants have returned to the idea of offering their (excellent) bread free of charge — imagine that.
Lafayette


Cost: Free!


The Bread: Dinner begins with a slice of pain de campagne, which is made with organic white flour, 10 percent whole rye flour, and 10 percent whole wheat flour. It's fermented for 24 hours, and then served with Vermont cultured butter sprinkled with Maldon salt. Baker James Belisle makes everything in house; he has his own mini-bakery downstairs in the kitchen.
Carbone


Cost: Free!


The Bread: The bread basket includes imported bread sticks seasoned in house, pan de sesamo from Sullivan Street Bakery, and housemade garlic bread. The whole shebang is served with cauliflower giardiniera. And that doesn't include the complimentary Grandma Bread, which is made in house from milled Yukon gold potato dough and topped with last summer's riserva (the end of last summer's best Jersey tomatoes that are jarred and stored in Carbone's wine cellar) and house-dried oregano.
Fatty 'Cue


Cost: $5


The Bread: The original Fatty is back with a new space and a new menu, and that includes "Dragon Toast with Master Fat." It sounds like a rap lyric, but it's actually bread slathered with butter and toasted until golden brown. The master fat is a combination of the fat that rises to the top of the smoked bone broth, which gets skimmed off the top and combined with pork fat, duck fat, chicken fat, and dry-aged beef fat. You want this.
Aska


Cost: Part of the $65 tasting menu.


The Bread: With salted brown butter and rye hard-bread, soft fennel and caraway rolls, and salted New York butter, the bread basket here is surprisingly normal, considering the restaurant's adventurous Nordic fare.
Runner & Stone


Cost: Free!


The Bread: At dinner service, the bakery-restaurant serves a traditional baguette, a buckwheat baguette, and Bolzano rye. You also receive an olive croissant right when you sit down.
Maison Premiere


Cost: $3


The Bread: For a few dollars, you get a big bread plate with a small warm, crusty baguette, thick-sliced sourdough, a large olive roll, and a hot, buttery brioche. Plus: It all comes served with a rich housemade seaweed butter. Hopefully this is one item new chef Lisa Giffen won't change.
Montmartre


Cost: Free!


The Bread: Sullivan Street Bakery provides sesame seed filone, and many of the dishes on the menu (croque monsieur, salted cod terrine) come with an onion bread from Balthazar.
The Marrow


Cost: Free!


The Bread: Naturally, the German-ish restaurant is serving housemade pretzel rolls served with whole-grain mustard (again, made in house).
The Pines


Cost: $6


The Bread: Table bread comes from Grandaisy Bakery, and it's served with homemade caraway butter. Variations include Stirato bread (kind of like an Italian baguette), filone, panino sette grani, and seven-grain bread with roasted sunflower pumpkin seeds.
Atera


Cost: Part of the $165 tasting menu.


The Bread: Matthew Lightner's currently making a sourdough pork fat roll. Seriously: Housemade sourdough rolls are basted in pork fat as they're baked. He's also serving a slice of rye bread with butter, which is encased in an aged rind and sprinkled with sea salt.
Maysville


Cost: Free!


The Bread: Starting a Southern meal with cornbread is a necessity. This complimentary loaf is made from Wild High Farm cornmeal and brown butter, and it's sometimes served with ham-hock broth.
Three Letters


Cost: Free!


The Bread: The Clinton Hill restaurant gets its bread from Le Petit Bakery in Fort Greene. That means you'll be eating a country loaf and baguettes served with onion-garlic herb confit. The chef bakes onions in oil for hours, and then purees them with herbs.
Parish Hall


Cost: $6


The Bread: A seemingly simple "bread and butters" is listed on the menu, and it's actually really good bread from Bien Cuit (miche, campagne, and brioche). It comes with three kinds of butter: Ronnybrook (unsalted butter made from cow's milk), goat (slightly tangy, but still rich), and country ham (rendered from a mix of ham fat and unsalted butter). Nice.