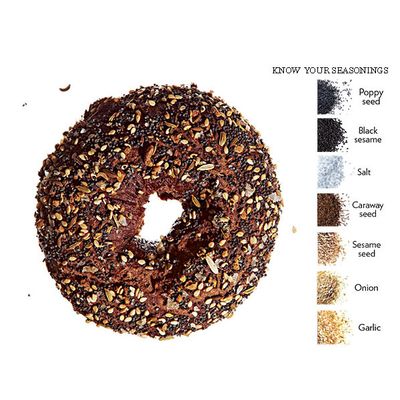 Photo: Bobby Doherty/New York Magazine
If you were to identify one taste that best represents New York, you could do worse than the everything bagel, with its frenetic coating of poppy, caraway, and sesame seeds, plus salt, garlic, and onion. An everything bagel, like the city itself, is not shy. It's brash, aggressive, over-the-top, and utterly polyglot, both an emblem of New York's immigrant past and a vehicle for its culinary future. To some, it's the only bagel. "It has depth and complexity … It's the thinking-man's bagel," says wd-50 chef Wylie Dufresne, who broke ground a while back with his innovative interpretation, an "everything bagel" of savory ice cream with smoked-salmon threads. Since then, the versatile spice mix has strong-armed its way into everything from more haute tasting menus to a hot-dog bun. But here's the thing: Although the everything bagel seems as historical as the Waldorf salad, it was only invented sometime around 1980. (A New Yorker article credits David Gussin, a teenage sweeper-upper in a Howard Beach shop at the time, for collecting the oven's burned-seed detritus after a day's bake and undergoing an everything-bagel epiphany.) What does Gussin, now a middle-aged Wantagh, Long Island, businessman think about the current crossover craze? "It makes me smile," he says. "Although I should be getting royalties."
Torrisi Italian Specialties' bagel chips with smoked sturgeon, cream cheese, and everything-bagel spices
Mario Carbone and Rich Torrisi's nod to the Lower East Side's legacy. It's known among the cognoscenti as crostini alla Russ & Daughters, and is a rotating dish on the restaurant's $75 seven-course menu. 250 Mulberry St., nr. Prince St.; 212-965-0955.
Smith Canteen's turkey on everything croissant
Buttermilk-brined turkey, sage mayo, and good bacon on an "everything" croissant. Believe it or not, chef Rob Newton, the brains behind this excellent idea, grew up in the bagel-bereft state of Arkansas. $9; 343 Smith St., at Carroll St., Carroll Gardens; 347-294-0292.
Iconic Hand Rolls' New York roll
It's smoked salmon, cream cheese, red onion, and rice wrapped in a sheet of nori and looking not unlike a savory ice-cream cone with "everything" sprinkles. $6; 135 First Ave., nr. St. Marks Pl.; 646-476-3100.
Momofuku Milk Bar's Bacon Bagel Bomb
Outside this billiard-size ball of dough, you'll find the usual mix of seeds and spice; inside there lies a stealth bacon-scallion-and-cream-cheese filling—an everything bagel trapped in the body of a jelly doughnut. $3.50; multiple locations.
Talde's Everything Roti
After dabbling in "everything-bagel" spring rolls, Dale Talde has moved on to unleavened Indian flatbread. $4; 369 Seventh Ave., at 11th St., Park Slope; 347-916-0031.
Eleven Madison Park's smoked sturgeon with everything-bagel crumble, pickles, and caviar
Not to be outdone by Messieurs Torrisi and Carbone, Daniel Humm makes a spice mixture of his own and calls it an "everything crumble." It's part of his $195 tasting menu. 11 Madison Ave., at 24th St.; 212-889-0905.
Crif Dogs' Jon-Jon Deragon
No less an "everything" innovator than Wylie Dufresne is a fan of this stupendous Crif Dog creation (deep-fried frankfurter, chopped scallion, "everything" seeds, and a shmear) invented by bitters guru and former PDT bartender John Deragon. $3.75; 113 Saint Marks Pl., nr. Ave. A; 212-614-2728.
Sfoglini's everything-bagel fusilli
Jewish appetizing meets Brooklyn artisanal pasta making. How New York is that? So much so, the New-York Historical Society has seen fit to sell the stuff at their museum store. You'll also find it at Brooklyn Victory Garden for $8.99 a sixteen-ounce package; 920 Fulton St., nr. St. James Pl., Clinton Hill; 718-398-9100.
*This article originally appeared in the April 15, 2013 issue of New York Magazine.