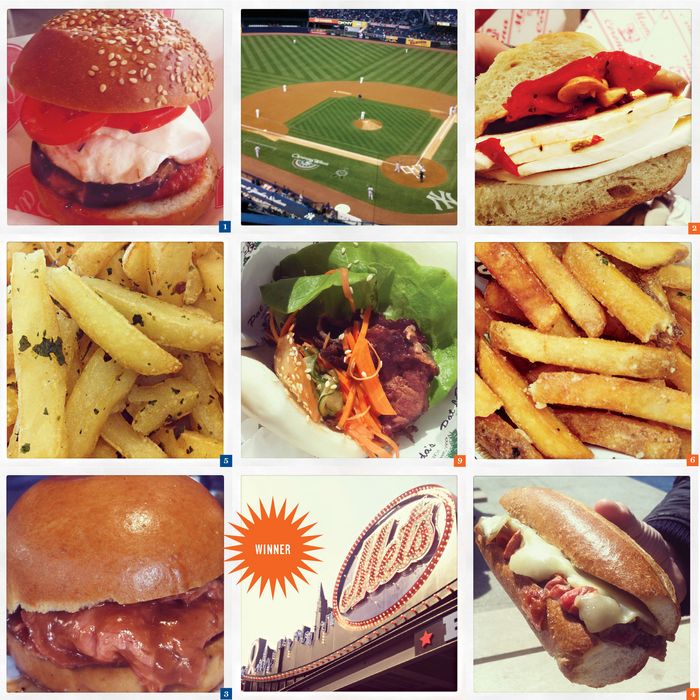 Photo: Leonor Mamanna/New York Magazine (Yankee Stadium); Jenny Westerhoff/New York Magazine (Citi Field)
Watching your team pitch a no-hitter or pull off a win in the bottom of the ninth is all well and good, but what's really essential to the enjoyment of a ball game these days is tucking in to something delicious to eat. To determine who dominates the culinary zone, we pitted the Yankees against the Mets in four matchups of burgeoning categories of ballpark grub.
Italian Sandwiches
1. Yankee Stadium: Parm's Fresh Mozzarella Sandwich
In the spirit of keeping this contest apples to apples, we're skipping the much-talked-about meatball parm in favor of the newish vegetarian-friendly sandwich: remarkably fresh mozzarella, a thick slice of marinated eggplant, passable out-of-season tomatoes, and basil, on a nice seeded roll. The flavors harmonize as beautifully as the members of an old-time bluegrass band, and the whole is greater than the sum of its parts. What really makes this sandwich sing, though, is the house spicy sauce—a perky blend of B&G; peppers, olive oil, crushed tomato, oregano, and a few other things—so infernally good it could be the next Sriracha ($14; Great Hall). Score: Home Run (4/5)
Vs.
2. Citi Field: Mama's of Corona's Grilled Vegetables and Mozzarella Hero
Although we've had some first-rate heros at the legendary Italo-American Corona shop that runs this spick-and-span Citi Field stand, this wasn't that. The bread was dry, the mozzarella hard, and the flavors never really coalesced. Mama (the late Irene Leo) would not be proud. Bonus points, though, for careful construction and a nifty red-and-white cardboard box for safe transport of your sandwich to your seat. Note: On game days that fall on Thursdays, Mama's serves the superior roast-pork-with-mozzarella-and-gravy hero for the same price ($11.50; section 105, World's Fare Market). Score: Double (2/5)
Steak Sandwiches
3. Yankee Stadium: Lobel's USDA Prime Beef Steak Sandwich
Just like the Yankees, Lobel's got off to a shaky start this season. The boutique butcher debuted its steak sandwich as part of the new stadium's 2009 roster, and we have nothing but cherished memories of last summer's specimens. But an opening week spot check revealed that the thinly sliced beef served from a trough of thickened jus and piled lavishly on a soft Rockland Bakery bun has yet to find its 2013 groove. The problem: gloppy lukewarm gravy and a heavy-handed approach to its application obfuscates the flavor of the beef, necessitating the embarrassment of having to attack the unruly thing with a knife and fork like Elaine's Snickers-eating boss on Seinfeld. This is why Babe Ruth munched hot dogs and not French dips between innings. Note: You might try asking the staff to let up on the gravy, although that tactic didn't work for us. The sandwich at Lobel's new Manhattan satellite, incidentally, is far superior to this one. ($16; secton 133, Field level).
Score: Double (2/5)
Vs.
4. Citi Field: Pat Lafrieda's Original Filet Mignon Steak Sandwich
Late last season, celebrity burger blender Pat LaFrieda unveiled his answer to Lobel's handiwork. It's several slabs of super-tender filet mignon topped with fried onions and Monterey Jack cheese tucked into a length of baguette—essentially a highfalutin cheesesteak. The onions overwhelm, while the cheese does the opposite, and the bread has nothing on Au Bon Pain. But we'll give LaFrieda the edge for a greater overall beefiness, a show of restraint in the jus department, and for building a sandwich that is marginally easier to eat than the competition, requiring only a surgeon-style postprandial washup as opposed to a thorough hosing down ($15; section 515, Promenade level).
Score: Triple (3/5)
French Fries
5. Yankees Stadium: Garlic Fries
If you haven't been to a ball game recently, you may be surprised to learn that garlic fries are a thing. This deep-fried delicacy apparently hails from the West Coast, where the Gilroy Garlic Fries are a highlight of San Francisco's AT&T; Park. The Yankees rendition came with the new stadium and has since earned a cult following, though we're not sure why: The spuds are pale, with a hint of outer crispness masking a mushy interior, the whole heap speckled with parsley and doused, not judiciously, with a brash garlic concoction that will stay with you through untold extra innings ($7; section 108, Field level).
Score: Almost-Double (1.5/5)
Vs.
6. Citi Field: Box Frites's Garlic Frites
The food court inhabited by Danny Meyer's concessions would be a destination even outside a ballpark, and his French-fry stand nobly upholds Belgian-frites tradition: Idaho potatoes are thick-cut and twice-fried until golden and properly crisp, and seasoned tastefully with fresh garlic, parsley, and Parmesan to complement the potato flavor, not obscure it. If you want to gild the lily, dipping sauces like Smokey Bacon may be purchased at $1.75 a pop ($6.50; section 139, Taste of the City).
Score: Triple (3/5)
Frozen Drinks
7. Yankees Stadium: Frozen Strawberry Daiquiri
Even a stadium-wine guzzler like Gisele Bündchen might pooh-pooh ordering a fruity cocktail at a major-league sporting event. No one does that. Or at least no one should. What you drink at a ball game, of course, is beer. This truism is only reinforced by the distressing substance dispensed from the slushie machines at Yankee Stadium: a vague but cloying sweetness strikes first, followed by a hint of Liquid Plumber, a note of Robitussin, then a lingering finish of Jolly Rancher. Serves us right, we suppose ($13; section 321, Terrace level).
Score: Back to the Minors. (0/5)
Vs.
8. Citi Field: El Verano Cantina's Frozen Daiquiri
Compared with their Bronx counterparts, the tropical drinks whipped up at the taquería's new annex taste like Harry Craddock himself is manning the blender. You can pick your flavor, and although the mango-chile is predictably sweet, it proved a somewhat refreshing foil to the surrounding cheese-sauced excess and went nicely with a side order of chile-roasted peanuts ($4.50). We hope that as the season progresses, the crew will master the drink's balance and make sure the ice cubes are properly pulverized ($12; section 139, Taste of the City).
Score: Almost-Double (1.5/5)
Overall Winner: Citi Field
Eat the Mets
The top-five brand-new bites from our gastronomic Subway Series winner.
Shake Shack's High-Heat Cheese Dog
An expertly griddled all-beef hot dog slathered with a proprietary Cheez-Whiz-like sauce and a heap of pickled peppers that is totally worth the feelings of shame, regret, and acute indigestion to follow. $7; section 139 (Taste of the City).
Two Boots' Meatball Sliders
A stroke of slice-joint genius: serving the andouille-beef meatballs, mozzarella,
and marinara on customized garlic knots. Three for $8.75; section 515 (Promenade level).
Blue Smoke on the Road's brisket sandwich
Unlike the sliced brisket at the Manhattan mother ship, here the meat's chopped up fine and moistened with a spicy barbecue sauce. $9.75; section 139 (Taste of the City).
Pat LaFrieda's Korean-style steamed buns (9)
Six words you never thought you'd see strung together? Sure, but that's not to say that they aren't delicious. Three buns (two short-rib and one chicken) per $15 order; section 515 (Promenade level).
Catch of the Day's fish tacos (10)
Extra-crispy flash-fried-flounder tacos on corn tortillas from Esca chef and Mets fan Dave Pasternack. Three per order; $12.50; section 102 (Field level).
*This article originally appeared in the April 22, 2013 issue of New York Magazine.