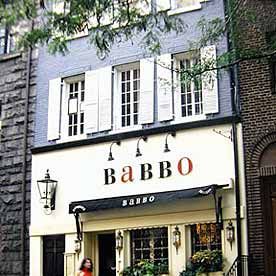 Too noisy, according to old folks.
Photo: Courtesy of Babbo
When Mario Batali first opened Babbo in 1998, community activist Doris Diether protested. Fifteen years later, 84-year-old Diether is back to resume her fight and avenge her disturbed neighbors. Babbo needs a special zoning variance renewal to continue to serve on Waverly Place (the space is officially zoned for residential use), but CB2 is refusing to support the ten-year extension. Diether and others are upset about noise, fumes, and "idling limos," and one man is even claiming that the poor ventilation system is the cause of his sleeping disorder. But Batali's confident that he can work this out.
Batali tweeted that the situation is "in progress toward peaceful resolution," and he's hiring architects, acoustical engineers, and other experts to help his cause. Though his team recently denied installing a secret alarm system, it's not a bad idea to ring a bell whenever neighbors walk in and shower them with extra pasta.
CB2 is asking the Board of Standards and Appeals to settle on an alternative, such as a one-year renewal for Babbo. In the meantime, all you elderly West Village residents should be extra nice to Batali. He has feelings, too.
Babbo's Future Unclear as Board Rejects Mario Batali's Zoning Request [DNAinfo]
Earlier:
84-Year-Old Activist Wants Mario Batali's Babbo Closed
So, No, Mario Batali's Restaurants Don't Have a Secret DOH 'Alarm System'
Mario Batali Would Like You to Quit It, Please