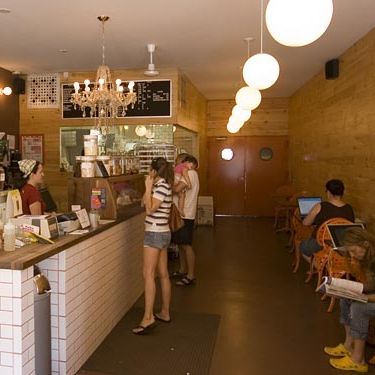 Coming soon to Manhattan, brownies and all.
Photo: Andrew Karcie
After blazing a trail of buttercream and malted blondies in Red Hook for the last eight years, the partners of the neighborhood's pioneering Baked are looking to set up shop in Manhattan. You may be familiar with the retro desserts in Matt Lewis and Renato Poliafito's three cookbooks, or perhaps you're even a regular customer at the Van Brunt Street bakery, which became a haven for hot coffee and a neighborhood hub in the aftermath of Hurricane Sandy. Lewis and Poliafito are now seeking approximately 1,500-square-feet at an address between midtown and the financial district, ideally with the potential for outdoor seating. Lewis says he's been working with an agent and the new Baked could open as soon as this fall. They just need to find the right rental space.
So the partners are now enlisting the public for help. To wit: Anyone who helps connect the bakery to its future second location will receive one eight-inch cake per month. Plus, the guys will visit your abode with some of their favorite DVDs and prepare a huge tray of brownies for you and your entourage. Send your red hot real estate tips to info@bakednyc.com, or check out all the adorable details here for the hell of it. Even if the space you have in mind isn't quite 1,500 feet, the guys say they'll consider something smaller, and decidedly more "half-baked."
Baked in Manhattan [Baking Society]
Earlier: This Is Red Hook, One Month After Sandy