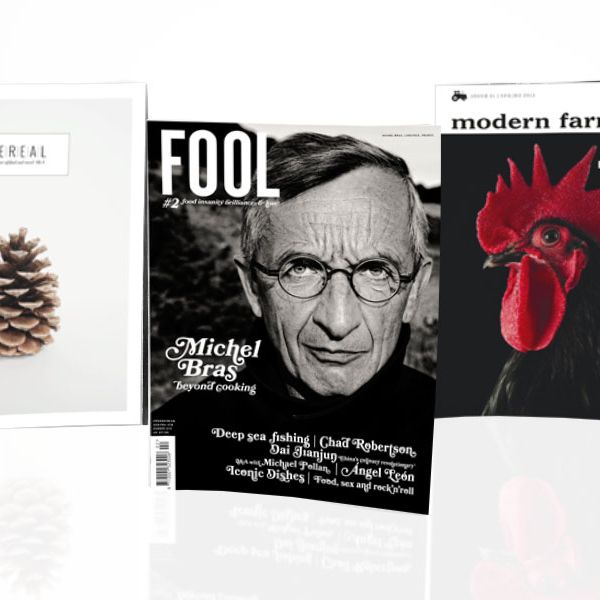 White space is big with these guys.
When Bon Appétit said food journals would be big in 2013, the glossy mag seemed late to the game. McSweeney's and Momofuku launched Lucky Peach way back in 2011 — and the print quarterly hasn't exactly flown under the radar since then. But the predicition was prescient: Thanks to LP's (well deserved) success, a crop of second-wave journals has emerged, and the focus on the medium has brought renewed attention to older, lesser-known titles. The result: plenty of reading material for literary-minded food lovers.
Modern Farmer


Ideal reader: The person who pines for an urban chicken coop.


$29.97 for four issues per year; subscribe here.


The first issue of this contemporary look at food from the source, headed up by a Monocle alum, launches this month, and the in-depth features on organic farming in China and humane slaughter will appeal to folks that want to know more about how the world's food gets grown.
Cereal


Ideal reader: The Nordic fetishist.


£35 ($53) for four issues per year; subscribe here


Though this quarterly is both British and internationally focused (issue two covers both Korean chile paste and long pepper), the clean, white aesthetic and serene photography are cleary inspired by Scandinavia. And, in fact, issue one devoted an entire feature to Noma's food lab.
Meatpaper


Ideal reader: The conscious carnivore.


$28 for four issues per year; subscribe here


The only periodical devoted to "art and ideas about meat" (we think), Meatpaper wants its readers to reflect on why and how we eat other animals. Recent features have included "how to butcher roadkill," "the birthplace of buffalo wings," "the idea of steak," and "portraits of U.S. presidents holding hams." The current issue is all about fish, and, naturally, includes Isabella Rossellini in a squid costume.
Swallow Magazine


Ideal reader: The very adventurous armchair gastrotourist.


$30 per issue; purchase here


Though it launched back in 2008, Swallow is just three issues old. The first two were devoted to new Nordic cuisine (are you sensing a food journal theme?) and the Trans-Siberian Railroad. The new third issue tackles a slightly more appealing area: Mexico City. Regardless of the topic, the oversize format of each issue does much to aid the impressive design and gorgeous photos.
Gather Journal


Ideal reader: The belletrist who also loves dinner parties.


$35 for two issues per year; subscribe here


Gather takes the "food lit" concept to a new level, organizing each issue into chapters mirroring the stages of a meal, from amuse bouches to desserts. Within each chapter you'll find recipes, "lushly imagined images," and "whimsical essays about memorable eating experiences." The theme of the current issue is "traces," which explores the subtle ways food lingers in our memories and our family traditions. Proust would approve.
Kinfolk


Ideal reader: The Portland lover looking for something to put on their coffee table.


$65 for four issues per year; subscribe here


"A Guide for Small Gatherings" is the understated slogan of this well-known, Portland-based "collectable print magazine," whose fetching photo essays of bearded and tattooed nymphs cavorting in urban glades will make you wonder how your own life became an infinite loop of personal pizzas and Netflix marathons.
Fool


Ideal reader: The jet-setter with a black card.


99 Swedish krona ($15) per issue; preorder issue three here


Founded just under a year ago by the former art director of Swedish Gourmet and her food photographer husband, this publication proclaims that it is "in English, for everyone." Perhaps that's true, but Fool nevertheless brags that many of its readers "are high spenders, foodies, and trend setters traveling around the world — only to indulge in food and wine." Recent stories include a behind-the-scenes look at Mugaritz, a report on an exclusive production of zero dosage Champagnes, and a profile of — you guessed it — Noma maestro René Redzepi.
Diner Journal


Ideal reader: The locavore who moved to Brooklyn before it was cool.


$50 for four issues per year, plus love letters; subscribe here


Andrew Tarlow, the man behind Williamsburg stalwarts Diner and Marlow & Sons (and more recently Reynard), publishes this gem of a journal containing original recipes, fiction and art, plus some lovely photos of cheese.
Acquired Taste


Ideal reader: The big dreamer.


$64 for four issues per year; subscribe here


"We are trying to be more than just a food magazine, but rather the voice of a food movement around the world," blares the mission statement of this quarterly journal, which aims at nothing less than "redefining the world of food and the general perception of food publications." Fair enough. Depite the title's boundary-pushing M.O., issue three, soon to hit the stands, covers Andrew Carmellini and Christina Tosi, two chefs with very broad appeal.
Fire and Knives


Ideal reader:


£32 ($48) for four issues per year; subscribe here


This stylish, restrained, and very British publication from Guardian editor Tim Hayward produces thoughtful long-form essays about food in a decidedly un-glossy format. Recent stories include "The Rise and Fall of Railway Catering," "Tidbits for Macarons," "Save Our Bacon," and "Adventures in Figurative Food." But be warned: There are no recipes.
Graze


Ideal reader: Someone who likes the idea of rebellion.


$18 for two issues per year; subscribe here


Chicago-based Graze calls itself the "anti-food magazine food magazine," and proudly boasts that it accepts "no recipes, no tablescapes, no restaurant reviews." Despite the posturing, the tone isn't actually screw-you-culinary-scum: Between Graze's covers, you'll find short stories, poems, dispatches from the food world, illustrations, and photography— all devoted to "the food that we made, smelled, ate, threw up, fucked up, and loved."
Remedy Quarterly


Ideal reader: The sentimentalist looking for an irony-free read.


$28 for four issues per year; subscribe here


"Crafted with care" in Brooklyn by founder and designer Kelly Carámbula, Remedy explores the stories behind treasured recipes on the theory that good food is good therapy. Each issue contains reporting and personal histories accompanied by recipes, tips, and tidbits. Recent topics have included "urban farms in Detroit," "stealing a boyfriend and his to-die-for breakfast dish," and "a lifetime in pies."