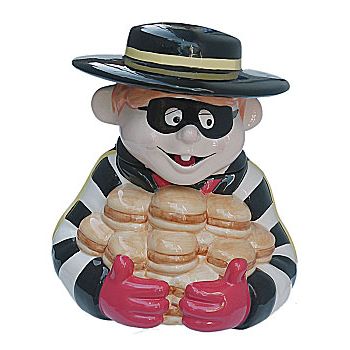 A rendering of the suspect.
Photo: McDonald's
Maybe the thief has something against the Dutch? More than $100K of frozen burgers headed for Hilton hotels in the Netherlands were lifted this week from a freight shipping facility in northern New Jersey. The Star-Ledger reports that police are on the lookout for both the missing patties and the Hamburglars who hauled them off the lot at BMG Logistics in Linden in a 40-foot, refrigerated shipping container.
The big question is: How will the criminals unload all the merchandise? It's not like you can easily fence a truckload of stolen burgers without raising suspicions. Unless the perpetrators of this hamburger heist plan to keep the 3,000 boxes of frozen meat for their own cookout-to-end-all-cookouts, which seems unlikely.
Police search for Hamburglar who stole $100K in hamburger patties from shipping container in Linden [Star-Ledger]
Related: Florida Man Steals Truck With $75,000 Worth of Campbell's Soup