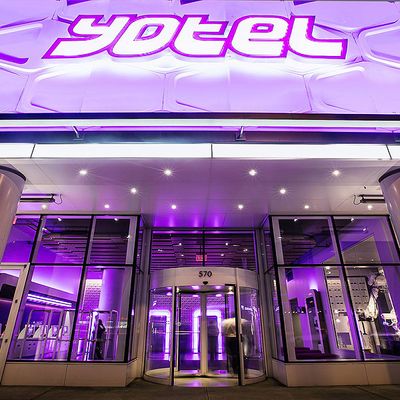 Yotel's regularly scheduled brunch will march on, uninterrupted.
Photo: Courtesy of YOTEL
Jeffrey Chodorow's China Grill Management will replace chef Richard Sandoval's restaurant group at Yotel, with the change going into effect during the next two weeks at the Times Square hotel. In an unusual move, representatives from the capsule-esque chain tell us that none of its food-service operations will actually shut down during this time, including the bars and its YO! Brunch. "We are excited about the energy and history of success in hospitality that they bring to the project," a representative tells Grub Street.
A WARN notice posted on the New York Department of Labor website earlier this week indicated that all 102 of Yotel's food and beverage employees at DohYo, Green Lounge, and the midtown hotel's bars would lose their jobs between March 18 and April 1. Sandoval's restaurant group and the hotel had terminated their contract, according to the notice.
It's unclear to what extent Jeffrey Chodorow's restaurant group — which operates Ed's Chowder House, Asia de Cuba, and of course China Grill — will change the menus or direction of the food at Yotel. "Our focus for the immediate future is to bring new energy while maintaining a high level of culinary offerings and continuity in service for YOTEL's guests and diners," restaurateur Jeffrey Chodorow told Grub Street in an e-mail. "We are excited about what the future holds for our company and YOTEL."

Earlier: Yotel Moves to Shut Down Its Times Square Restaurants