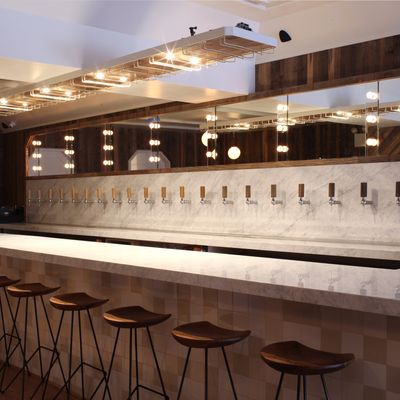 Not pictured: the bar's flux capacitor.
Photo: Melissa Hom
Tomorrow night, Jeppe Jarnit-Bjergsø — the cult brewer behind Denmark's Evil Twin — and Daniel Burns — who has worked at Noma and Momofuku Labs — will open the doors to Tørst, one of the most anticipated beer bars in years. Grub caught up with Jarnit-Bjergsø and Burns and got the lowdown on exactly what to expect.
Burns says a full, separate kitchen is in the works for May; right now he's got an oven and a meat slicer. "It's charcuterie and cheese, pickles and olives," he says. "Obviously all those things work really well with beer." Burns is also making dark Danish rye, baked with sunflower and flax. "When you fry it in clarified butter and eat it warm it's quite awesome," he says. The restaurant component of Tørst will be a five-course menu, served three times a night. Burns says there may also eventually be a ten-course tasting with individual pairings "of beer you can't get anywhere else."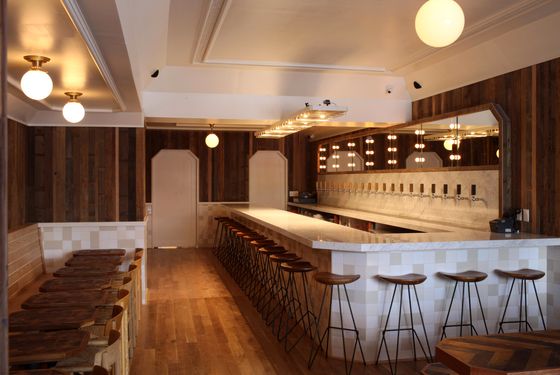 A wider look at the space.Photo: Melissa Hom

The space, designed by hOmE New York, is a composition of reclaimed wood, straight lines, and Scandinavian chairs from the sixties. Behind the gorgeous marble bar is Tørst's secret lodestar: the so-called "flux capacitor," a red-lit, glass-enclosed control panel under the taps. It was designed by Gabe Gordon, the chef, brewer, and owner of Beachwood BBQ in Long Beach.
The flux capacitor allows the bar's stewards to calibrate nitrogen and carbon dioxide mixes and adjust compression of each tap, "which means you can serve all beers absolutely perfectly." It also employs a Glycol system, meaning beer can be served at four different temperatures: Imperial stouts and barleywines at 52, dry stouts at 48, IPAs at 42, and pilsners at 38 degrees, for example.
"We're just a bunch of nerds," Jarnit-Bjergsø says. "Everything needs to be over the top. We want to do the best beer list we can possibly do, maybe do the best beer list in the world. This is the most outrageous, nerdy draft system ever."
As for the beer itself, Tørst will serve 21 beers on tap and offer 200 bottles. Here's just a glimpse at some highlights:
• Two barleywines, called Tørst Front Room and Tørst Back Room. "Front Room is for the bar," says Jarnit-Bjergsø, "and Back Room for the restaurant. They're started from the same barleywine, sweet and malty, at 11.2 percent, but I aged each one differently in two different ways." One is aged in port-wine barrels imported directly from Portugal, and the other in a barrel used to age Spanish fortified wine.
• De Molen Rhythm & Blues and Hel & Verdoemenis 666 from Brouwerij de Molen. "They're the best brewery in Holland," says Jarnit-Bjergsø.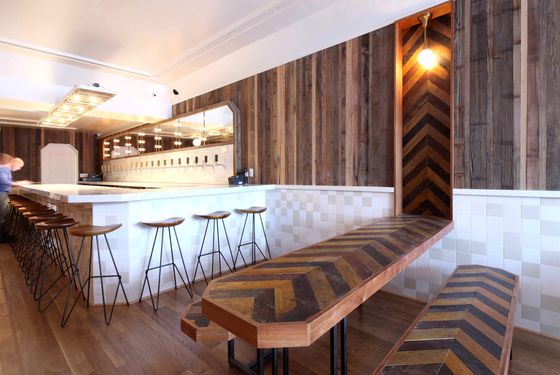 Seating made of reclaimed wood.Photo: Melissa Hom

• Chad Yakobson of Crooked Stave in Colorado brews "Brett" beer for the bar, which will be "very funky and sour" because of all that wild yeast.
• At least one limited-edition beer will come from the Toronto-based Bellwoods. "I think they're making the best beers in Canada right now," Jarnit-Bjergsø says. "We collaborated on a sour stout. Basically, we made a stout, soured it up after that, and then barrel-aged it. So it's very unusual."
• The Stockholm, Sweden–based Omnipollo Brewery made a special beer for Tørst. The bar is also pouring the brewery's Mazarin and Nebuchadnezzar.
• "My brother Mikkel Borg Bjergsø, of Mikkeller Brewing, made some special beers for us," Jarnit-Bjergsø says. "He came up with a beer called It's Alive. It's a Belgian blonde brewed with a wild yeast strain that makes it funky and earthy, but also it's very drinkable, with food." Also in the beer: rhubarb. Why? Because, says Jarnit-Bjergsø, "I love rhubarb, but also because it's very Danish."
• An IPA from Beachwood BBQ in Long Beach, home of the original flux capacitor. "I'm trying to get a lot of my friends' beers in here," says Jarnit-Bjergsø.
• Evil Twin collaborated with Aviary in Chicago on a barrel-aging experiment called Aviary 1-10. "They got some really rare barrels, from Scotland and France," Jarnit-Bjergsø says. "We shipped them all to Denmark and filled them with the same beer, a Belgian blonde. So we have ten different barrel-aged versions of the same beer. It's an exclusive for Aviary, but we'll also be able to serve it."
• The bar will pour some beers, including Mexican Cake, from Westbrook, the South Carolina brewery where some of Evil Twin's beers are produced. Right now they only distribute to a few states.
• The bar is also serving a lot of Evil Twin. "Not just because I'm making the list," Jarnit-Bjergsø says, "but because I actually think I make some of the best beers in the world." He smiles. "Other people think that, too."
Tørst, 615 Manhattan Ave., nr. Nassau Ave., Greenpoint; 718-389-6034