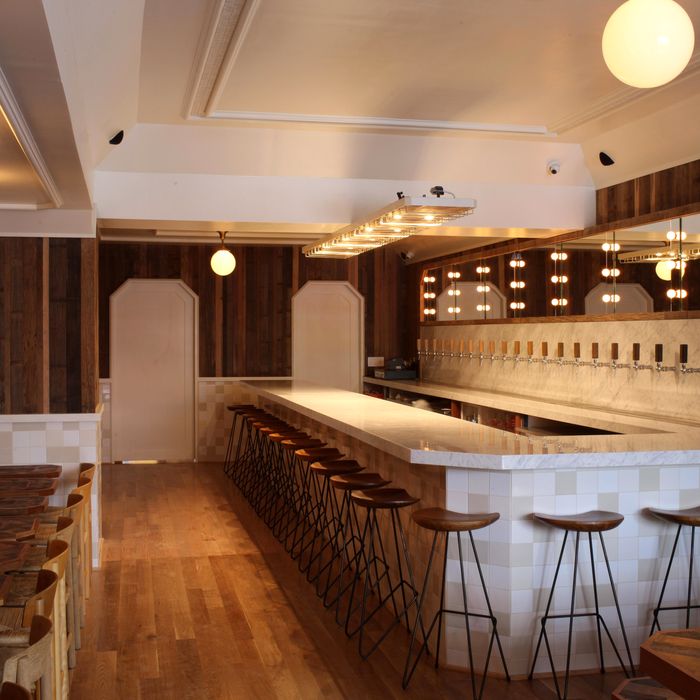 The restaurant's at the back, behind the white doors.
Photo: Melissa Hom
Here's one more reason to be excited about Tørst, the innovative beer bar that opened over the weekend in Greenpoint: Chef Daniel Burns, who formerly ran Noma's pastry department and was one of Momofuku's fermentation-obsessed R&D; guys, tells us that Luksus, the venue's tasting menu restaurant component, is slated to open in May. "We wanted to get the beer right at the start," he says.
Tørst currently only serves a selection of snacks that happen to work well with beer: charcuterie, cheese, pickles, olives, and a Danish dark rye bread packed with sunflower and flax seeds. "When you fry it in clarified butter and eat it warm," says Burns, "it's quite awesome."
To that end, the chef is currently working with a single induction burner, a meat slicer, and an oven. Once the full kitchen is installed and Luksus launches in Tørst's back room, however, Burns will serve a five-course tasting menu that combines Scandinavian techniques and local ingredients to 26 guests at a time. If all goes well, the chef, who has dual degrees in math and philosophy, says he'd consider offering a ten-course menu. Other plans included bringing in a roster of guest chefs from Denmark who'll cook limited-edition menus.
The tasting menus will be paired, of course, with beer. "Dan is not going to cook for the beer," says Evil Twin brewer Jeppe Jarnit-Bjergsø, who manages the lineup at the bar. "Daniel is going to cook, and then we're going to pair the beer."
And because Jarnit-Bjergsø is enlisting brewers to make custom, sour, and funky brews for the restaurant, things could get interesting fast. "We have a lot of exclusives," says Burns, "so the most ideal would be that each pairing you'd get with the tasting menu would be a beer exclusive."
Earlier: Tørst Opens Tomorrow in Greenpoint — and Beer Lovers Should Start Getting Psyched