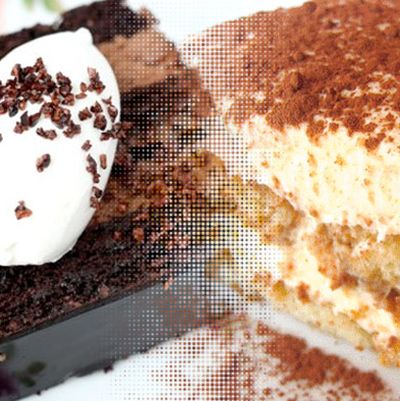 Dessert confusion: Blackout cake from the new Carbone, tiramisu from the Hell's Kitchen Carbone.
Photo: Melissa Hom; Courtesy of Carbone
"Why is everyone saying it's so hard to get a reservation at Carbone?" a friend recently asked. "I just went on OpenTable and they had tons of seats." One problem: The Carbone Ristorante Italiano listed on OpenTable isn't the new project from Rich Torrisi and Mario Carbone, it's a Hell's Kitchen restaurant that's been open for several years. We corrected the friend's mistake, but lots of people looking for inch-thick veal parms and vodka rigatoni at the new spot have inadvertently ended up at New York's "original" Carbone restaurant.
Spent 20 minutes at wrong Carbone lasngt.Finally grumpy owner there gave me address of THE Essential new Carbone, Missed seeing TonyBennett.— Gael Greene (@GaelGreene) March 29, 2013

Grub Street visited Carbone in Hell's Kitchen and met up with the restaurant's owner, Alessandro, who makes a point to introduce himself to all customers. (It's just Alessandro, by the way; even the maître d' claims to not know his surname.)
"It's just a little bit annoying," he says. Alessandro is affable, a proud Italian with a sweater draped stylishly around his shoulders. "Now the customers is confused."
What people will find if they walk into the 38th Street location: Lots of unironic Italian bric-a-brac, an Italian power ballad playlist from the eighties, and a framed poster of the Mona Lisa customers can only see if they take the spiral staircase down into the bathrooms. Best of all, Alessandro makes a promise to always seat you himself. "In two, three weeks, we can enjoy this beautiful private room," he says, leading his way through the narrow space to the restaurant's nondescript back patio. "Torrisi no have this, eh?" he boasts.
"It's a different place because I'm a real gladiator," he continues. "Those guys — I don't know. I find every day some Albanian, Romanian, whatever, and they say, 'I'm Italian,' and sometimes it's fake."
When Grub Street points out that the food at the new Carbone is Italian-American, as are its chefs, Alessandro is unfazed. "So, what you suggest?" he asks. "Get gasoline, go to the other Carbone, start a fire old mafia style? If it annoys me too much, we can do that."
He's joking, we think.
Earlier: Night of the Nonnas: Two Italian Grandmothers Review Carbone