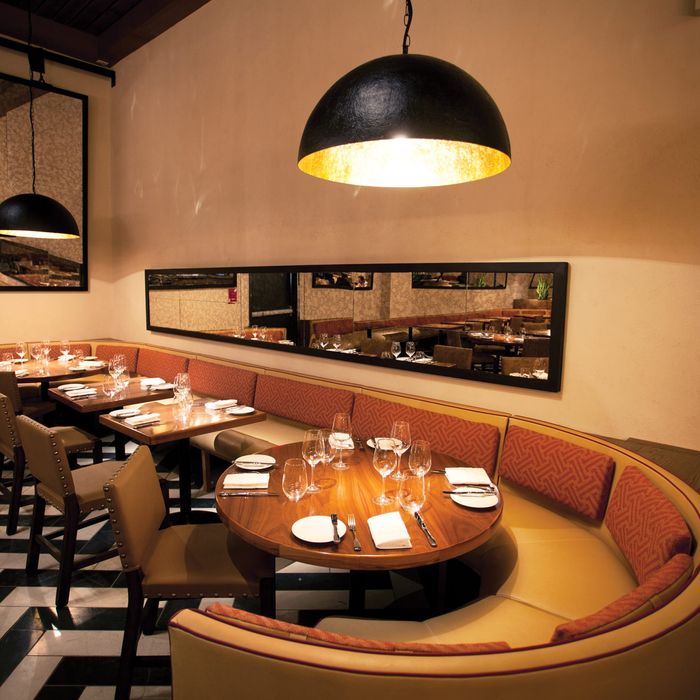 Cuozzo likes Manzanilla's big, comfortable interior.
Photo: Erin Kennedy/New York Magazine
This week, Adam Platt hit up two flatiron hot spots where the drinks are as good as the food. At Korean gastropub Hanjan, soju complemented skewers, while the Southern cooking at "neo-bourbon bar" Maysville is "worth a special trip." Both received two stars. Spanish joint Manzanilla drew a bunch of other critics who had mostly muy bien things to say about the food (while throwing in a Don Quixote reference or two). Where did the others chase cravings and grab bites? We serve that up, straight ahead.
Pete Wells revisited Danny Meyer's MoMA restaurant, the Dining Room at the Modern, a gallerylike space that "stands back so that artistry can happen on the plate." Compared to the restaurant's early days, complicated dishes "pay off in rewarding layers of harmony and contrast." Three courses of foie gras are "inventive" and still taste of foie gras, a squid-ink spaetzle with sea urchin is "elegant and powerful," and lobster tail with pimento broth is "daring and wonderful." With "more focus and intensity," the restaurant got a star more than the two Frank Bruni gave it in 2005.
Robert Sietsema sampled the Egyptian eats at El Omda in Astoria and praises its Pharoah-worthy seafood. With the exception of lamb chops "so tender, you almost don't need to chew," he'd gladly skip the "nicely cooked meats" for the brine-doused whole fish — "the most vibrant-tasting fish flesh imaginable." Also of note: the ironically-named-but-delectable foul (stewed fava beans), delightfully smoky baba ghanouj, and stuffed grape leaves, all of which "would make a spectacular vegan feast."
At Brooklyn's Red Gravy, Saul Bolton's new Italian joint, Tejal Rao found a neighborhood restaurant "where the food is good even if you don't live around the corner." She affirms the pasta-making prowess of former A Voce chef Ayesha Nurdjaja, whose calamarata is a "hot, fatty delight" and uni bucatini is "undeniably gorgeous" in its pool of butter and white wine. While chilies, seafood, and red-sauce staples comprise the restaurant's "bright, brainy Italian food," "clumsy service" is an issue. Then again, not even an doltish server could keep her from enjoying the meatballs.
Perhaps as a celebration of Women's History Month, Ryan Sutton put together a list of restaurants where women are "calling the shots at the stove and in front of the house." Taking the top, middle, and last spot are April Bloomfield's shrines to oinkers and oysters, while Amanda Cohen's veggie-only Dirt Candy and Susan Povich's Red Hook Lobster Pound ("the city's best lobster roll") round out this list of female-led restos.
New critic alert! The New York Observer's Joshua David Stein thinks Manzanilla's Dani Garcia has "balls the size of his excellent squid-ink-and-cuttlefish croquettes." Besides occupying an enormous space, the chef gets props for pushing an "ambitious, high-end Spanish restaurant," an endeavor at which numerous chefs failed. Stein champions croquettes that "may be the best fried thing in the city" and octopus as "tender and smoky as Billie Holiday singing 'Strange Fruit.'" He likens the menu to Spanish cuisine's "greatest hits" in that they're cliché, but he seems to be loving the music.
Jay Cheshes also gave Manzanilla love for its "sleight-of-hand spins on Spanish classics." The croquettes get another enthusiastic mention ("super-savory"), as well as roasted suckling pig with "ultra-succulent meat," and "candy-crisp skin." He says desserts like the pineapple "iceberg" and "fruity meringue floating in a passion-fruit sea" can't be missed. Overall, the restaurant is the "great new introduction to Spanish cooking" that the city needed. Four stars.
Manzanilla isn't the city's best Spanish restaurant, says Steve Cuozzo, but it's "the biggest, most comfortable, good one by a mile." He still awarded it a couple of other bests for its sherry offerings and kale salad, which has runny, poached quail eggs, Valdeón blue cheese, puffed wheat, and almonds ("loved it every time"). Though a "monotonous" cheese plate misses the mark for dessert, he believes the restaurant's "flavor constellations are persuasive enough" to keep a "Duane Reade takeover" at bay "for a long time." Two stars.
Trying the Spanish fare at a restaurant that isn't Manzanilla, Stan Sagner declares "culinary fireworks to behold" at the Upper West Side's Andanada 141. While most dishes are "almost too pretty to eat," he recommends the "greaseless tender" chipirones, "blissful" migas al pastor, and a "loony deconstruction" of arroz con leche. Though there are a few odd mains on the menu, and "insanely expensive" Jamon Iberico is "dry and chewy," the food of "wildly talented" chef Manuel Berganza is a welcome addition to the city's selection of Spanish eats.
Aamans-Copenhagen is "Le Pain Quotidien with a Scandinavian makeover," says The New Yorker's Silvia Killingsworth. At Tribeca's home of smorrebrod, she finds that the Danish open-faced sandwiches are "artfully supplemented" with fillings like beef tartare, chicken salad, and her table's favorite, pork paté with aquavit. The malted rye is "complexly sweet, savory, and nutty, unlike any you'll get on a pastrami sandwich in New York." Her only quibble? Don't call kale salad "kale tartare."