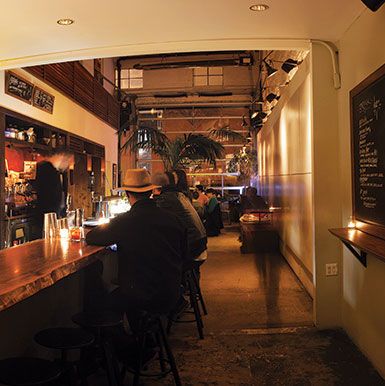 Aska "sure as hell isn't boring," says Rao.
Photo: Victor Prado/New York Magazine
Our critics took a backseat this week to make room for the Best of New York issue. We scoured the city for the best kinds of ramen, chocolate babka, and even tongue. But what did the other critics have to say about their meals? Read on to find out.
Pete Wells visited Mighty Quinn's Barbeque in the East Village. Beef ribs were "Flinstonian," and he was shocked to find real fistfuls of pulled pork — which were "staggeringly good" — on Second Avenue. But he advises to pass on the smoked hot sausage and chicken. He also mentions BrisketTown and Fletcher's as spots that round out the city's three best new barbecue joints. Two stars for Mighty Quinn's.
Tejal Rao checked out Aska and deemed the $65 seven-course tasting menu to be "New York Nordic": a wonderful blend of fine dining and Williamsburg chic. She praises chef Fredrik Berselius for "reminding us that the magic of cooking isn't just in the transformation of ingredients, but in a chef's understanding of juxtaposition." Rao enjoyed dishes including wild oysters and cardamom ice cream, but there were a few misses. Pig's-blood crackers wasted the "sweetness, the richness of texture." But regardless, Aska "sure as hell isn't boring."
Leo Carey of The New Yorker also dined at Aska this week, where he found the menu "fantastical." Standouts for him included a "gentle potato soup" and pork-filled potato dumplings in a "frothy" smoked-cheese mousse. Like Rao, he thought the pig's-blood chip lacked "focus and character." The dried-scallop dish was more pleasing.
April Bloomfield is "raising the bar on dirt-cheap Mexican snacks," says Jay Cheshes in his review of Salvation Taco. Multicultural tacos win here, but the lamb on naan, kimchee posole, and the large-format Jacob's Ladder Feast — a "falling-off-the-bone short rib with house-pickled cauliflower and cactus, zingy green and red salsas, and a stack or tortillas" — are his favorites.
Ryan Sutton tried out the different tastings at wd~50, which range from five courses for $90 to twelve for $155. He found them less exciting than some of the options from the restaurant's former self. But popcorn shrimp — popcorn soup tossed with "briny shrimp cakes" — was wonderfully reinvented. And he deemed pho gras, a "punny take on foie gras and Vietnamese soup," nearly successful. But he called the bone marrow "flavorless and tepid." Two stars.
Florida clothing line Tommy Bahama is known for its wacky beach prints, but you can get dinner at the New York store, too. Michael Kaminer reviewed the eponymous restaurant above the store. Surprised, he found "exceptional servers, a competent kitchen, and surprisingly serious drinks." He recommends a Hibiscus Fizz cocktail, made with house-made hibiscus syrup, rye, lemon, and egg whites. Though the kitchen is "corporate" and many of the dishes are one-note, he praised the grilled baby back pork ribs rubbed in a blackberry brandy barbecue sauce.
Instead of a review, Steve Cuozzo proclaimed that the Upper West Side was in some serious need for great new dining. Red Farm is two months from opening, but he wished Ed Schoenfeld would hurry it up just a little bit. "Upper Worst Side," he writes. Robert Sietsema also didn't file a review; instead, he went on a hunt for the perfect jerk in Flatbush this week. Exquisite Express earned the No. 1 spot in his book, and Peppa's and Errol's Caribbean Bakery came in close at second and third, respectively.