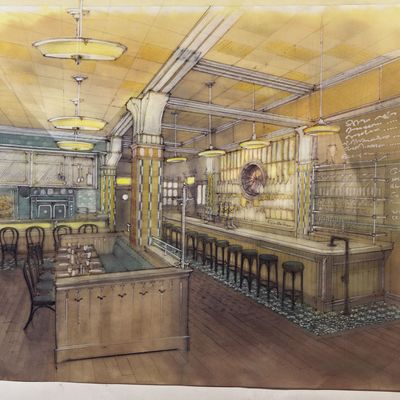 Concept art for Lafayette, opening next month.
Photo: Courtesy Lafayette/Roman and Williams
Chefs will often be the first people to tell you that they don't chase trends, that their restaurants happen regardless of what others in the business are doing. That may be true, but nevertheless, it's almost as if late last year, the collective appetite of New York willed French food back into vogue. In October, Times critic Pete Wells lamented that "bistro cuisine has fossilized" in New York while other cuisines pushed forward before declaring Calliope the spot that would kickstart a renewed bistro revolution. In December, New York's Adam Platt noticed that French food has "risen from the dead," citing not just Calliope, but also Boulud Sud and the NoMad as restaurants that were doing much to rejuvinate the classics. And now with a slew of new French spots either opened, or about to, it would seem that — yes — the genre is beginning a full-fledged comeback.
Le Philosophe opened in Noho last November and has been met with warm reviews and big crowds while putting out revisionist versions of lobster thermidor and duck à l'orange; Gabe Stulman's Montmartre opened this past weekend to a pile of hype; and the next big blockbuster restaurant from Luke Ostrom, Josh Pickard, and Andrew Carmellini will be the French-inspired Lafayette slated for April.
How did French food — long considered the cuisine of the world — get to a point where it even needed to come back? "The biggest killer of the French culinary center of the world was the Spanish modernist movement," Carmellini says. "I remember having a conversation with Ferran [Adrià] in the late nineties about that. He was tired of the traditional French restaurant, and he had a point." From there, diners and chefs moved on to other things: Modernist-cuisine overload gave rise to farm-to-table dinners, Italianate trattorias prospered, New York chefs learned how to make really fucking good pizza, David Chang showed everyone that country ham and kimchee can co-exist in perfect harmony, and foragers dug up all sorts of little edible weeds that tweezer-wielding chefs artfully plated.
What's more, the new French arrives as the predominant trend of the last few years, Asian hipster cuisine, appears to have peaked.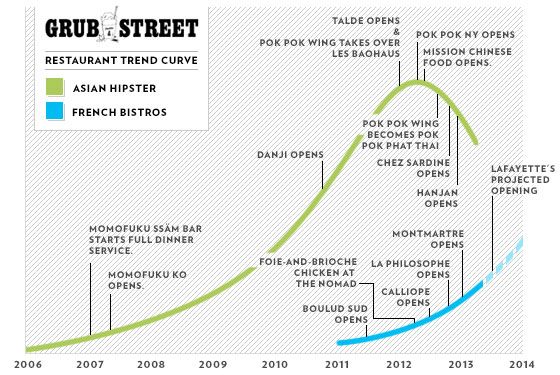 Expect Peak Bistro in 2015.Illustration: Aaron Pederson

In a world saturated with pork buns and plates of Sichuan-peppercorn-blasted bacon, it makes sense that customers might start looking for something gentler, if only because it's something different.
But the renewed interest in French food doesn't mean you should expect kidneys with mustard sauce or tripe à la mode. These chefs aren't doing food that's dated or backward-looking. They want to apply their own sensibilities to a type of food that could use a refresh. "I felt like it was time to bring the focus back to taking all these classic dishes and updating them," says Montmartre chef Tien Ho. "It's not 'authentic'; it's our remake of classic French cuisine." At Montmartre, that means beef tartare with "traditional garnishes" sits on the menu alongside fluke with chili-crab butter and crêpelike pasta with braised lamb neck and Niçoise olives.
For owners, it's not about re-creating Balthazar, either (though Stulman makes a point to say it's one of his favorite restaurants) — it's about taking the established tenets of what it means to be a New York City restaurant circa 2013 and applying them to what's proven to be a more or less universally loved approach to food and service. As Platt puts it, "These places are far less stuffy, less mannered, more bare-bones, less classically French than Baltazaar, even." He adds, "The cooking technique is top-notch, the ingredients are well sourced, but many of the recipes tend to be lighter than the old classics, with all sorts of inventive riffs thrown in."
It's Escoffier filtered through the No Reservations mindset — and the end result is food that's as informed by New York as it is by Paris.