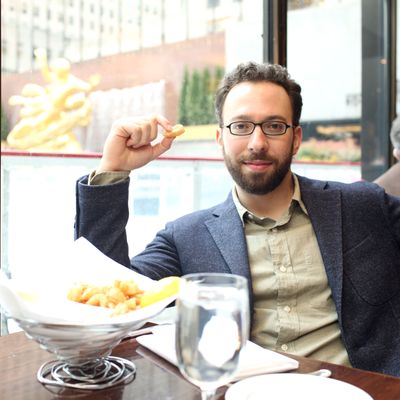 Give this man some tomato dipping sauce, stat.
Photo: Melissa Hom
The title character in Teddy Wayne's critically acclaimed new novel, The Love Song of Jonny Valentine, is an 11-year-old Bieber-esque pop star who subsists on little more than egg-white omelettes and low-carb snacks while on tour. Though the author himself is typically more health-conscious, the past month of book promotion in great food cities like L.A. and San Francisco sent his normally restrained regimen out the window. "Usually I'm eating two balanced meals and then a shake for dinner," he jokes. "But all of the travel, plus the stress, ended up being kind of devastating. I can't imagine what it's like for actual musicians." For his first week back on the East Coast — catch him read at Community Bookstore March 19 — Wayne packed in lunches with his editor and a writer's conference in Boston between decadent dinners at Balthazar and Bright Lights, Big City–style mini-benders. Click ahead for all the sloshy details (and a cameo by Don DeLillo!) in this week's very literary New York Diet.
Friday, March 8
My body was still in shock from what I'd ingested Thursday. I'd had lunch that day with my book editor at Rock Center Café to discuss Very Important Business. I ate cornmeal-crusted and saffron aïoli calamari and a shrimp salad as an entrée. The calamari was fine, though I prefer tomato-based sauces, but the salad was superb. I hightailed it to glamorous Port Authority and hopped on a Peter Pan bus, where, ironically, people's aging process is accelerated, and rode up to Boston for the AWP Conference. AWP stands for "Awkward White People." (Its unofficial designation is the Association of Writers & Writing Programs, and convenes around 10,000 writers for hundreds of panels. I attended only one, the big Don DeLillo/Dana Spiotta reading and conversation; the highlight of which was DeLillo telling a meandering anecdote that didn't really climax and concluding with, "So, that's the end of that story.")

I woke up Friday morning on the foldout bed in the living room of a generous friend who was staying at the posh Fairmont Copley hotel. To quote David Brent: "El vino did flow." For me, it was el rye-and-ginger at an open bar Thursday night.

Once I figured out the espresso machine in the room, I downed two in succession. My friend had told me I could order room-service breakfast on her bill, but a continental breakfast of one juice, a baker's basket with a "3 pc. assortment," and a hot beverage cost $23. I had just watched this BBC News report on hunger in America, so my BBC-induced liberal guilt prevented me from partaking.
I went to the hotel gym around noon to sweat out the alcohol, and afterward, from the complimentary basket, ate a Red Delicious apple; only one of those adjectives was accurate. Back at the room, my friend gave me a cheese Danish from Au Bon Pain and an Honest Tea green tea. I didn't eat again until around 5 p.m. at the Au Bon Pain next to the convention center, where I had egg white, cheddar cheese, and avocado on a skinny whole-wheat bagel and more coffee than I should have.

Later, at the Sheraton Hotel bar, headquarters for the Anxious White People, I drank a vodka martini and a few proseccos and shoveled in the better part of two bowls of mixed nuts. Then I went to a party at an extremely wealthy person's house somewhere in the Back Bay, at which point the BBC story simultaneously advanced and retreated in my mind. I gluttonously consumed beef Wellington pockets, savory ratatouille inside star-shaped puffs that were the best possible delivery mechanism for ratatouille, pastries, and cheese, and slowed down my white-wine intake. My group ended up at the somewhat less refined Bukowksi Tavern, where I got down half of a bitter IPA that I didn't need or want.
Saturday, March 9
I had an egg white, feta, and spinach wrap and coffee at Starbucks before heading to the convention hall, where I picked up a Southwest blackened-chicken salad from Tossed and a Snapple green tea. My role was to sit in the PEN American Center booth for an hour or so, and I did so in semi-comatose fashion. They had Dunkin' Donuts munchkins and coffee in the booth, and I impulsively ate and drank too much of both after the surprisingly delicious (and spicy) salad.

Dinner at the Sheraton was a salmon BLT (I eat a lot of seafood, but seldom have bacon these days, which I may have to remedy after this) with (allegedly) truffled fries and a vodka-and-mango iced tea and vodka tonic. I cut myself off after one Maker's Mark at a wee-hours hotel-room gathering.

Sunday, March 10
After an early wake-up made earlier by Daylight Savings, I had a Dunkin' Donuts coffee at the Back Bay T station, another Au Bon Pain eggs-cheese-avocado bagel at South Station, and then a chocolate chip Clif Bar and a cashew-almond package before this Atrophied White Person Greyhounded back to New York, where I had a reading to give that night at KGB Bar.

I had a twenty-minute nap before the reading and awoke feeling as enervated as I've felt in a long time, so I bought an Honest Tea green tea on my way to KGB and a rye-and-ginger once there in hopes that the reintroduction of a small amount of alcohol to my system might boost me. It didn't, really. I read with the novelists Kathleen Alcott, Matt Dojny, and Joshua Mohr, all of whom were charming and talented. I got two slices of margherita pizza from Artichoke Pizza on 14th Street after. I hate it when New Yorkers, especially, boast about knowing the "best" anything around — the best bagel, doctor, whatever — but I will say that Artichoke is … the optimal pizza place in New York, in my limited sampling.

Monday, March 11
I slept late and had no real food in the apartment, which meant a Clif Crunch chocolate chip bar and coffee for breakfast. Then I scrambled to my publisher's office for some Very Important Business and drank a lot of their soda-fountain Diet Coke. Around 3 p.m. I had my first real meal of the day, a grilled-salmon salad with beets, portabello mushroom, sun-dried tomato, a hard-boiled egg, Parmesan, and olive oil and balsamic vinegar from a deli/grocery near me that I go to nearly every day (and have some variation of that salad most days), along with a Zevia soda so I could continue feeling virtuous.

At night, I still felt sluggish — a four-day hangover! I'm never drinking again! — and wasn't in the mood to hunt anything down or exercise. So as not to feel completely disgusted with myself, I ordered in from a healthy place called Natureworks, which I'd never eaten at before, and got the South American burrito and the Green Machine shake (broccoli, spinach, cucumber, pineapple, ice, and mango juice). It was revivifying. Dessert was a pink crisp apple that was about thirteen times better than the stale one at the Fairmont Copley.

Tuesday, March 12
Finally felt like a regular human being again, and I had the breakfast I have most mornings: cottage cheese with something sweeter, usually granola, mixed in, and coffee. A handful of tamari almonds before going to the gym, then a sea-salt-and-pretzel dark chocolate Nugo bar and grilled vegetables with Moroccan couscous from my neighborhood deli/grocery.

I met a friend at the Odeon for a Sazerac so I could impersonate the protagonist in Bright Lights, Big City. You are not the kind of guy who would then end up at a book party for another friend at another outrageously rich person's apartment, where you made a dinner of passed hors d'oeuvres: salmon napoleons, spinach soufflé, potato pancakes, artichoke puffs, gingery Oreo-like cookies, hamachi on wantons, raspberry crumbles, and two Jack-and-gingers. And yet you are, and you will conclude this now-hackneyed parodic device.

Wednesday, March 13
Cottage cheese/granola/coffee in the morning. Tamari almonds before gym.
Met a friend who was moving out of town the next day at Momofuku Noodle Bar for lunch and had the ginger scallion noodles, which I failed to mix up enough to disperse sufficiently the ingredients and oils. Then I went to see a documentary about post-quake reconstruction in Haiti, Haiti Redux, at NYU, to re-up my cocooned-first-world culpability. I had a bit of shockingly tasty seaweed salad beforehand in their cafeteria — if I were a student there, I'd eat that every day — and some delicious mac-and-cheese and spinach-and-cheese hors d'oeuvres at the reception after before joining a group at Balthazar, where a friend was hosting a dinner.
We sampled an assortment of salads, various things with the words frisée and lardons in them, and I had the sautéed skate and a bunch of desserts (the apple tart and vanilla bread pudding were the standouts), along with a vodka martini and a Caipirinha.

It's funny, I started this week physically ravaged by my own stupid choices, got very little real work done, began with compunction about inequality in America and overcame it by gorging on the largesse of affluent benefactors before being reminded of intractable global poverty through a documentary about Haiti, only to subdue myself by overeating at a French restaurant — the very country that colonized Haiti. But because you are not the kind of guy who would end a food diary on such a downer, bon appétit!