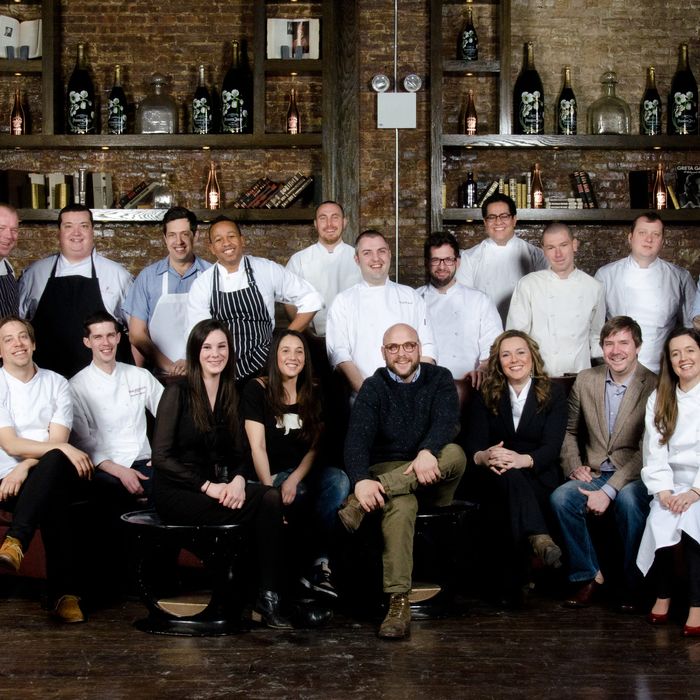 Class of 2013.
Photo: StarChefs.com
The industry-based StarChefs, which is known for its annual Chef's Congress held each fall in New York, has named its Rising Star chefs for New York, an honor given to emerging talent; plenty of past winners have gone on to win Beard Awards and take over the world — stuff like that. The group scouts upstarts in four cities each year, and because New York was left out in the cold in 2012, the group represented here is all the more formidable. Chefs whose work will be honored on April 11 include Ai Fiori chef de cuisine P.J. Calapa, Matthew Lightner of Atera, Justin Smillie ofIl Buco Alimentari e Vineria's, Abram Bissell of NoMad, and Leah Cohen of Pig and Khao. Unsurprisingly, Brooklyn restaurants get their own subdivision; winners include Dale Talde, Angelo Romano of the Pines, team Battersby, Justin Hilbert of Gwynnett St., and Noah Bernamoff of Mile End. Mixologists, designers, all-stars, and all-around mensches round out the full list, which is straight ahead.
CHEFS

Manhattan
PJ Calapa of Ai Fiori, Altamarea Group
Leah Cohen of Pig and Khao
Matt Lightner of Atera
Justin Smillie of Il Buco Alimentari e Vineria
Michael Toscano of Perla
Brooklyn
Justin Bazdarich of Speedy Romeo
Justin Hilbert of Gwynnett St.
Joseph Ogrodnek and Walker Stern of Battersby
Angelo Romano of The Pines
Dale Talde of Talde
HOTEL CHEF
Abram Bissell of The NoMad
PASTRY CHEFS
Ashley Brauze of DB Bistro Moderne
Malcolm Livingston II of wd~50
Katy Peetz of Blanca
SUSTAINABILITY CHEF
Evan Hanczor of Parish Hall
ARTISANS
Zachary Golper of Bien Cuit
Aurélien Dufour of Daniel Boulud Restaurants
CONCEPT
Joe Carroll of Fette Sau

COMMUNITY
Michael Chernow and Daniel Holzman of The Meatball Shop
RESTAURATEUR
Noah Bernamoff of Mile End Delicatessen
SOMMELIERS
presented by Costières de Nîme
Thomas Pastuszak of The NoMad
Emilie Perrier of Ai Fiori, Altamarea Group
MIXOLOGISTS
presented by Hobart
Jeff Bell of PDT
Jillian Vose of Death and Co.
GUEST CHEF
Hillary Sterling of The Beatrice Inn
BREWER
Announced at Rising Stars Revue
Candidates include the head brewers from 508 Restaurant and Bar, Birerria, Bridge and Tunnel, Brewery, Bronx Brewery, Rockaway Brewing Company, and Singlecut Beersmiths.
VIP CHEF
German Calle, Petrossian Restaurant New York
Rising Stars NYC 2013 [StarChefs]