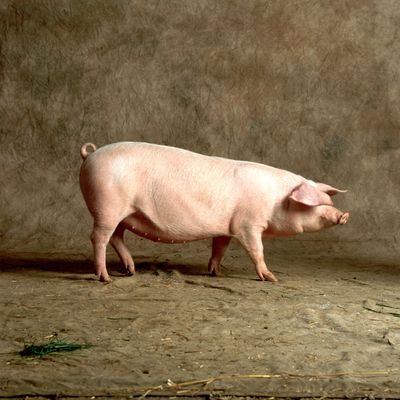 Run away, pig.
Photo: Robert Dowling/Corbis
If all goes well, there's going to be a 50-foot, 500-pound bacon and sausage behemoth tomorrow at the Baconfest, which is apparently a real thing in St. Louis. Chef John Johnson and his intrepid team of meat artists will assemble at dawn in the atrium of a local casino (of course), where they'll painstakingly weave 100 pounds of applewood-smoked strips into a giant bacon runner, to which they'll add a dusting a chipotle powder and 300 pounds of flattened Italian sausage meat, but then 100 additional pounds of cooked, crumbled bacon.
But then comes the roulade and harrowing eight-block walk to the Baconfest St. Louis site, which will require 32 designated pork pallbearers and Zen-like moves. "That's what keeps me up at night — how are we going to move this," Johnson tells the St. Louis Post-Dispatch. "What if it slips? How will we make those turns? And some of the walk is uphill." Thank goodness the hog log is getting an added boost from a military escort.
Local chef creates 500-pound 'hog log' [St. Louis Post-Dispatch]