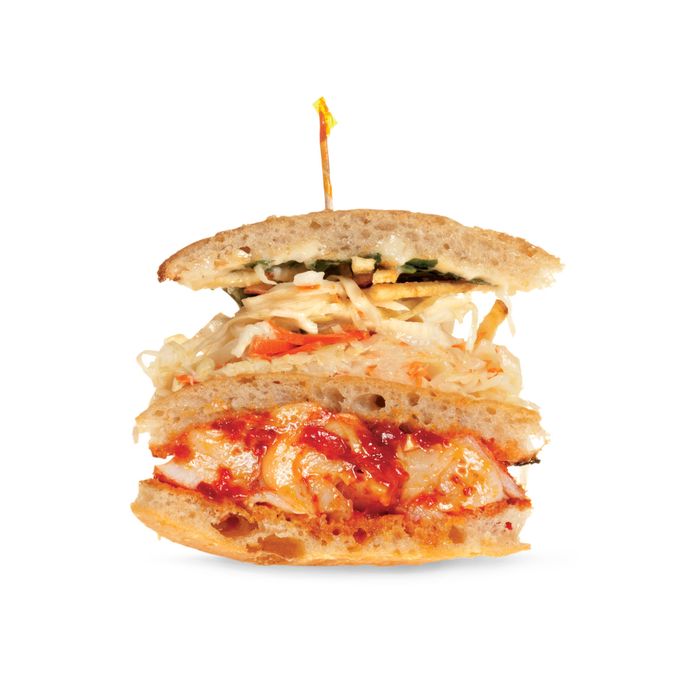 The Lobster Club
Photo: Victor Prado/New York Magazine
Kajitsu
125 E. 39th St., nr. Lexington Ave.; 212-228-4873; March
Having relocated from its subterranean East Village premises to the second floor of a Murray Hill townhouse, this specialist in the Japanese vegan ritual called shojin cuisine will still offer two prix fixe menus that change monthly. But lunch (coming soon) is a new addition, and so is Kokage, a separate ground-floor restaurant where Kajitsu's chef can cook with seafood and eggs. (Also on-site: a retail branch of Kyoto's venerable tea company, Ippodo.)

Melibea
2 Bank St., nr. Greenwich Ave.; 212-463-0090; March
The second collaboration between restaurateur Hector Sanz and chef Jesús Núñez abuts their first, Barraca. But unlike that classic Spanish kitchen, this one's more broadly Mediterranean, with dishes that run from beet hummus to bouillabaisse, and a daily prix fixe tasting menu served at the six-seat chef's table.
Alder
157 Second Ave., nr. 10th St.; 212-539-1900; March
If you've ever tried Wylie Dufresne's guest-chef hot dog at PDT, you know that he cooks low as well as he cooks high. Not that Alder, his take on pub grub, is hot wings and nachos. But Chinese-sausage pigs in a blanket, rye pasta with shaved pastrami, and pub cheese with chips fashioned from Martin's potato buns sound just as fun. And then there's the Hot Chocula: a late-winter cocktail that goes where no late-winter cocktail has ever gone before, riffing not only on Count Negroni's supreme contribution to the drinking world, but a seventies monster-themed breakfast cereal.
The Lobster Club
169 Thompson St., nr. Houston St.; 212-254-3000; April
As proficient as they are in the construction of chicken-parms, meatball heros, and mozzarella sticks, Rich Torrisi and Mario Carbone's truest calling may lie in the realm of the club sandwich. To demonstrate, they unleash upon their public a shop devoted to triple-deckers, including a tribute to Jersey's Town Hall Deli's Sloppy Joe.
Cull & Pistol
75 Ninth Ave., at 15th St.; 212-255-5672; April
When Chelsea Market's newly expanded Lobster Place reopens next month, it will debut an adjacent oyster bar and restaurant where chef David Seigal (formerly of Mercat and the Tangled Vine) constructs his globally inspired menu from the daily catch. Lunch only to start, with dishes like grilled hamachi collar, fideos negros, and the store's signature lobster roll, served hot or cold. (About the name: A cull is a lobster that's lost one claw, while a pistol has lost both.)
ABC Cocina
38 E. 19th St., nr. Broadway; 212-677-2233; April
Even though Jean-Georges Vongerichten is still hard at work on his locavore reinvention of Pipa, the remodeled restaurant's dishware has already debuted on the ABC Carpet & Home website. You'll have to wait a month or so to sample the menu, but "ABC Cocina Dinnerware," made from sandstone extracted from the Burgundian village of Saint-Amand-en-Puisaye, can be had now, $80 a salad bowl.
Fish & Game
13 S. 3rd St., Hudson; 518-822-1500; April
After giving the New York dining scene such seminal feedlots as Chickenbone Café and the whole rambunctious Fatty family (Fatty Crab, Fatty 'Cue, Fatty Johnson's), Zak Pelaccio has decamped for greener pastures upstate. That's where he and his wife, Jori Jayne Emde, and their partner, Patrick Milling Smith, have transformed a onetime carriage house and blacksmith shop into a restaurant inspired by the region's raw materials. With a smoker, a grill, and a wood-burning oven at Pelaccio's disposal, "the question," he says, "is what won't see wood?"
The Musket Room
265 Elizabeth St., nr. Houston St.; No phone yet; April
"New Zealand-influenced" isn't a much-explored cuisine in New York, but chef Matt Lambert (Public, Saxon + Parole) aims to change that with his new fine-dining-but-casual spot in the former Elizabeth space, fully renovated and home to a backyard garden. Expect tasting and à la carte menus featuring dishes like venison accented with gin flavors and "foie bon bons," plus wines selected by Cameron Douglas (New Zealand's only master sommelier).
Motorino
139 Broadway, nr. Bedford Ave., Williamsburg; no phone yet; April
Almost two years after closing his original Brooklyn shop owing to the fact that the ground upon which it stood was starting to behave like a Florida sinkhole, Mathieu Palombino relocates to sturdier turf. The French-trained chef turned pizzaiolo wants to time the opening to ramp season, which would mean ramp-Pecorino-and-tomato pies—and that, once again, all is right with the pizza world.
The Fourth
132 Fourth Ave., at 13th St.; 212-432-1324; April
Jo-Ann Makovitzky and Marco Moreira, the couple behind Tocqueville and 15 East, expand their Union Square presence with an Italian-accented "American brasserie" at the new Hyatt hotel. Look for dishes like dinosaur-kale Caesar and spring-lamb agnolotti, plus an espresso bar that varies its roast by time of day.
All'onda
22 E. 13th St., nr. Fifth Ave. No phone yet; May
Is risotto the new pasta? Maybe not, but the name of this place means "of the waves" and refers to the fluid consistency to which Venetians (risotti snobs to a man) like their rice cooked, so that's something. Chef-partner Chris Jaeckle (Ai Fiori, Morimoto) says the name also hints at an emphasis on seafood, especially crudi, or raw-fish preparations, in the style of consultant Chris Cannon's dearly departed Bar Tonno. There's also cicchetti, lots of wine, and, of course, pasta.
Ivan Ramen NYC
25 Clinton St., nr. Stanton St.; No phone yet; May
Syosset native Ivan Orkin, as you may know, went to Tokyo a few years ago and, like a one-man 1980 U.S. Olympic hockey team, beat spectacular odds by opening a pair of ramenyas that wowed the locals. Now he's back with his schmaltz, toasted rye-flour noodles, and small-batch shoyu. Brace yourself for a line like you've never seen before and a thunder of slurping noises.
Costata
206 Spring St., nr. Sullivan St.; No phone yet; May
An Italian-style steakhouse from the febrile mind of Michael White, who plans to offer raw oysters, lobster cocktails, and the signature cut, straight from the refrigerated lockers of Pat La Frieda: a dry-aged bone-in rib eye for two, garnished with accoutrements like bone-marrow panzanella and bone-marrow-mushroom sugo.
Luksus
615 Manhattan Ave., nr. Nassau Ave., Greenpoint; 718-389-6034; May
If you, like Daniel Burns, have done time at St. John, Noma, and Momofuku, and then decide to open a Brooklyn beer bar (the brand-new, cutting-edge Scandinavian-style Tørst), you don't serve your patrons Rold Golds and Slim Jims. No, what you do is create a fabulous Nordic dining nook and tuck it in behind the tap lines, offer exotic tasting menus of five courses or maybe ten, and then call the place Luksus (Danish for "luxury").
Intelligentsia Coffee
180 Tenth Ave., at 20th St. No phone yet; May
Chicago's pioneering roaster plants its flag in Manhattan with a coffee bar in the lobby of the new High Line Hotel, with a courtyard kiosk to come late summer. This is serious java: Direct Trade, single-origin, and brewed, ever so meticulously, by the cup.
Brooklyn Fare
431 W. 37th St., nr. Tenth Ave.; no phone yet; May
The tenants in the luxury rentals above this gourmet grocery might be able to start stocking their stainless-steel fridges as early as next month, but the 60-seat restaurant will take a bit longer. Unlike at the Boerum Hill flagship, the Mediterranean-American cooking will be served à la carte, with tasting menus available in the ten-seat wine cellar. (But don't expect to see much of César Ramirez: He's staying put at his triple-Michelin-starred Chef's Table across the river.)
Charlie Bird
5 King St., at Sixth Ave.; No phone yet; May
Little Nell alum Ryan Hardy joins forces with sommelier Robert Bohr, a veteran of Cru and Babbo, on this Italian-inspired restaurant in the South Village. There are 60 seats indoors with another 50 planned for a sidewalk café, and a menu that features housemade pasta, crudi, roasted meats, and locally grown vegetables. Another onetime Coloradan—Grant Reynolds, formerly of Frasca Food and Wine—will oversee the 100-bottle list.
The Elm
160 N. 12th St., nr. Berry St., Williamsburg; 718-218-1088; June
Over his singular career, Paul Liebrandt has cooked food variously called challenging and provocative, or refined and elegant, but seldom casual and accessible. He plans to reveal that kinder, gentler side at the King & Grove, a boutique Brooklyn hotel, where he's enlisted his Corton executive sous-chef, Mazen Mustafa, to run the open kitchen and administer the nightly tasting menu at an eight-seat chef's counter.
Bar Bolonat
611 Hudson St., at W. 12th St.; No phone yet; June
Bolonat means "to the point" in Hebrew slang, and also nods to Bolo, the first New York kitchen owner Einat Admony cooked in before eventually finding falafel fame with Taïm and opening Balaboosta in Nolita. In her new digs opposite Abingdon Square Park, she'll serve "New Israeli" fare like grilled dorade with kale-walnut pesto and tahini.
*This article originally appeared in the March 25, 2013 issue of New York Magazine.
Related:
Franny's Goes Large-Format
What to Drink at Eben Freeman and Michael White's the Butterfly