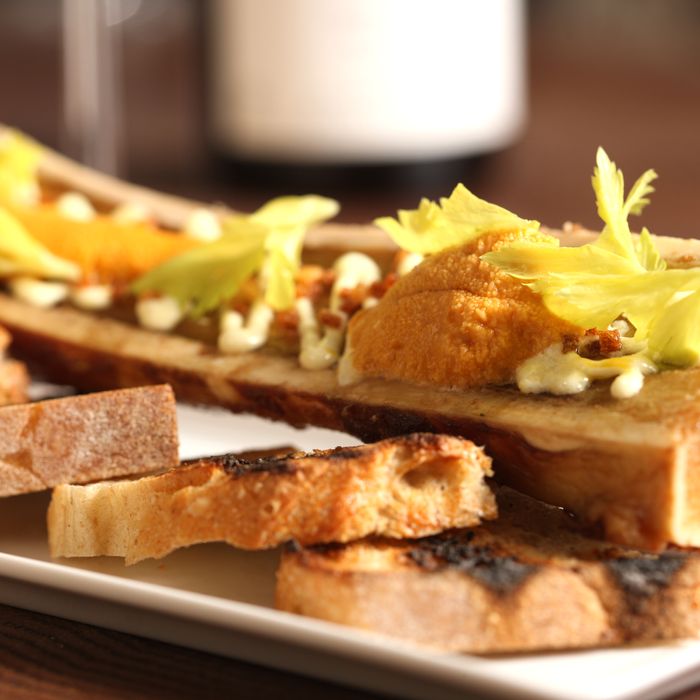 Bone marrow with sea urchin at the Marrow.
Photo: Melissa Hom
It seems uni is the new truffle: Chefs top pasta, eggs, and (famously at this point) sliced marrow bones with the briney, creamy sea urchin roe. It's a delicacy that turns an otherwise simple dish into something special — and pricier. Uni's hardly new in New York — Jean-Georges Vongerichten has served yuzu-and-jalapeño-topped urchin for years, and Marea's famous crab-and-uni pasta was on the menu when the restaurant opened. But now, it seems every new restaurant in New York (be it German, French, or New American) finishes at least one dish with the soft orange lobes. Here are a dozen new and noteworthy options you should check out immediately.
Long Beans, Chili, Uni ($7)
Where to Get It: Pearl & Ash
At this new spot on the Bowery, a Frej alum elevates simple long beans by slathering them in bright, creamy uni. The best way to eat a vegetable.
The Bone Marrow ($16)
Where to Get It: The Marrow
The restaurant's eponymous dish comes with sea urchin, fried potatoes, meyer lemon aïoli, and celery leaves. It's a must-order item if you're at Harold Dieterle's German-Italian spot. (And no, it's not a rip-off of Eric Ripert's version.)
Tune Tartare ($14)
Where to Get It: Manzanilla
Uni gets a Spanish makeover at this new-ish Spanish restaurant, where chef Dani Garcia tops tuna tartare with uni cream, avocado, green apple, and citrus dressing.
Bone Marrow ($18); Jicama ($16)
Where to Get Them: The Pines
The Marrow's not the only place to draw inspiration from a very similar dish served at Le Bernardin. The Pines' bone marrow comes with caviar, sea urchin, sea buckthorn, and dulse. And the jicama dish has uni, too — plus coconut and smoked jowl.
Uni With Pork Belly ($16)
Where to Get It: Louro
Another surf-and-turf uni dish; this time, chef David Santo pairs it with crispy pork belly, yuzu, shiso, and togarashi pickled cabbage.
Bucatini ($27)
Where to Get It: Red Gravy
This long-awaited Brooklyn Heights Italian restaurant opened in January, and on the menu is a bucatini pasta with sea urchin, basil chili, and scallions.
Egg on Egg on Egg ($18)
Where to Get It: SakaMai
The Lower East Side gastro-lounge serves a plate of classic scrambled eggs, but tops it with sea urchin filled with white sturgeon caviar. Fancy breakfast for dinner!
Sea Urchin and Pork Broth ($13)
Where to Get It: Thirty Acres
Momofuku alum Kevin Pemoulie likes to play around with sea urchin, and he has recently paired uni with pork broth, green apples, and chives.
Uni Pasta ($24)
Where to Get It: Il Buco Alimentari
This off-the-menu special pasta is often available if you ask for it. The farro noodles are served cold, covered in sea urchin from Maine, and coated in colatura sauce (made from anchovies), olive oil, and lemon juice.
Sea Urchin Toast ($15)
Where to Get It: Calliope
Even French restaurants are getting in on the sea urchin action: Calliope slathers it on toast. This special starter is now on the regular menu. It's one of those items that your table will want to order and share, but make sure you get a plate all for yourself.
Chopped Beef With Sea Urchin ($7)
Where to Get It: Chez Sardine
Sea urchin is the rich, creamy counterpart to chilled beef tartare in this unusual piece of sushi. It's a stellar pairing.
Uni Miso Ravioli Ramen ($40 for five courses)
Where to Get It: Yuji Ramen at Bowery Whole Foods
Yuji Haraguchi's doing a two-month-long noodle pop-up at the Bowery Whole Foods, and this item's on the reservations-only tasting menu (but unavailable for daily takeout). Yuji Ramen's Uni Miso Mazemen, a dry ramen dish without broth, is also sold at the Brooklyn Flea.