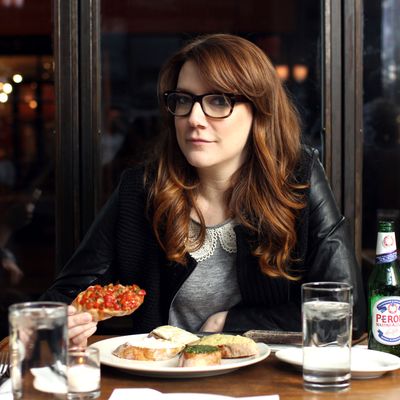 Schaefer, at 'inoteca.
Photo: Melissa Hom
This week didn't go the way Sara Schaefer thought it would. "When I was first asked to do this, I envisioned four days of artisanal meats and cheeses, farm-to-table brunches, romantic lighting, berry compotes, reductions of all kinds, and enough kale to feed a commune," says the comedian and co-host of MTV's Nikki & Sara Live. "But I haven't had a normal routine ever since this show went on the air in January." It's not all bad for Schaefer — despite some guilt-inducing trips to a couple of fast-food chains and at least one restaurant that specializes in multinational flapjacks. Even still, she says, "I think Anne Hathaway put it best in Les Misérables. I dreamed a dream, and that dream turned to total shit." See how it all went down in this week's Grub Street Diet.
Friday, February 22 

I overslept. My plans for my usual egg, veggie sausage, and sautéed asparagus went out the window. I rushed into the city, grabbed an iced tea (coffee makes my tum-tum hurt), and a turkey-sausage breakfast sandwich from Dunkin' Donuts. Even though I'm disappointed that I'm starting off my food journal like this, I'm feeling extremely proud that I didn't choose two doughnuts instead of the sandwich. Not sure what the difference would be, health-wise, but I'm guessing it means at least
 one less tumor.
For lunch, I did better with an arugula, grilled chicken, and shaved Parmesan salad from Westville, which is right around the corner from our offices in Soho. By the end of the day, I was exhausted from nonstop meetings, and a frozen DiGiorno (supreme) paired with a six-pack sounded pretty good. But I decided to make it count and convince a friend to go with me to a new place in the neighborhood. It's called Three Letters, in Clinton Hill, and it's only been open a couple of weeks.
I got a chicken confit sandwich and some fried pickled vegetables. Very tasty. The only problem was a wobbly table, which resulted in me spilling beer all over my crotch, and then I slipped in the consequent puddle, and it became an all-hands-on-deck staff event trying to get me up and to the bathroom. With my belly full and my butt soaked, I went home and immediately got to bed.
Saturday, February 23

I had a 7 a.m. flight to Los Angeles. Now look: I have a rule in my life, that the only time I'm allowed to eat McDonald's is when I'm flying. It's a treat I give myself for getting scanned and groped by 
the TSA; in some small way, it's my reward for preventing terrorism. I got the sausage egg biscuit with a hash brown.
By the time I landed, I was starving, but I was in a rush to get to my friend's wedding. I got my rental car, grabbed a Special K energy bar from the gas station, hit the road, and drove two hours to Palm Springs. Upon arrival, I am a raging bitch. My boyfriend was there, full from brunch, drinking by the pool.
I'm of course furious that he has not predicted my hunger levels and preordered me a four-course meal. I had an hour to get ready for the wedding, and he had to go do pictures and stuff since he was in the wedding. The closest option was McDonald's.
Not only was I breaking my rule, I was visiting this devil-hut twice in one day? While doing a food journal for a fancy blog? I was ready to burst into tears, but the drive-through guy was so friendly and he just handed me that chicken-sandwich combo meal with such a lightning-swift, yet gentle, motion, I instantly felt better.
Hours later, I was eating again at the wedding buffet. It was a vegetarian buffet — a bold move on the couple's part, but it totally worked. I loaded up on chili, jasmine rice, grilled vegetables, artichoke dip, and about five loaves of bread. Guzzled down a few Michelob Ultras — which I got made fun of for, but liquor makes me really hung-over and really stupid drunk — and I was ready to show everyone just how sexy my dance moves can be.
Sunday, February 24

In order to make it to LAX for my flight back to NYC, I had a limited amount of time in the morning. My boyfriend and our friends scoped out a place using Yelp. Time for my farm-to-table brunch! We pull up, however, and it's overrun with people. Being in a strange town with few options, we make a split decision. A decision that is necessary given the circumstances. A decision I will have to live with for the rest of my life. No, we didn't decide to eat each other. We went to IHOP.
The IHOP was bumpin', and our waitress was this saucy old Palm Springs lady who kept saying, "See I got your order right, no Senior Moments here!" She kept saying that. And we were imagining some manager in the back being like, "Grace, you've had too many Senior Moments this week," and she's just saying that loudly so her boss would hear her. "No Senior Moments over here!"
I ordered the multigrain harvest nut pancakes (recommended by our waitress) and a side of bacon. God, it was so so good. I dropped off my crew, who will be staying a few days longer in the California sunshine.
I was off down the road back to the airport, back to New York. And yes, I got Burger King at the airport. Anyone who questions this decision hates America. (Their crispy chicken sandwich is better than McDonald's, FYI.) I've probably consumed 6,000 calories by this point, so it's a good thing I'll be seated motionless for the next six hours. I got home at 1:30 a.m., and opted out of any more food for the day.
Monday, February 25

I had a car coming for me at 6:30 a.m. Unfortunately, I care about how I smell, so I decided to hose off the IHOP/Burger King/airplane film that has formed on my skin.
On four hours of sleep, I head to a shoot for my TV show. We're doing a field piece at Curve Expo, New York's finest lingerie convention, at the Javits Center. It involves us wearing nude body suits, walking around trying on negligee.
While in hair and makeup, I scarfed down a bagel and a doughnut, which is provided by MTV, probably from Dunkin' Donuts, to tell you the truth. The shoot was fun, and for lunch we ate in a private booth at the convention. I ordered a simple salad and vegetable soup. After the shoot, we headed back to our offices and worked on the script for our live show on Tuesday. At this point I'm a total zombie, and if a DiGiorno was calling my name before, it is screaming it now. But I decided to venture out to the Cardinal, a North Carolinian joint that I love.
My friends/co-workers Kim and Cory are both from North Carolina (I'm from Virginia, close enough), and we're ready for barbecue and corn bread. But alas, it is closed on Mondays! Poor planning strikes again! Don't worry, though — there wasn't an IHOP around.
Instead, we treked it over to 'inoteca, and I was just as satisfied ordering bruschetta, and an orechiette dish with pulled pork. I still managed to get my pig on. To fully achieve the coma I was hoping for, I washed it down with a few Peronis.


Tuesday, February 26

Show day. My call time is 9 a.m. My assistant brought me oatmeal from the V-Spot, a little coffee joint inside the Viacom building in Times Square. It's hearty and good to get me going for a sixteen-hour day.
Lunch is served over our table read for the show — chicken pad thai and two mini egg rolls did the trick.
Finally, after rehearsal, we meet to rewrite and make last-minute changes to the show. While we were trying to figure out which Anne Hathaway joke worked best, I was feasting on the chicken kabobs, hummus, and pita they ordered. I burn so much energy on show days it's a never-ending hunger pit. By 11 p.m. we're on the air, and by midnight I'm with some co-workers in a tiny dive bar off Times Square, decompressing. Because we had such a long day on Tuesday, they got us a hotel room at the Millennium Broadway, so I make my way over there and call it a night.
Wednesday, February 27
I woke up at, like, ten and ordered room service: oatmeal with seasonal fruit, which was very satisfying, and head down to our Soho offices. I walked, to clear my head, but then immediately wanted lunch because I'm usually just incredibly hungry all the time.
I got a tuna salad sandwich and a side salad from Westville. I feel so hoity-toity saying this, but because we're so busy, my assistant gets my lunch for me. As you can see, I have a hard time making healthy choices, so in the beginning she brought menus of all the places that were around here, and I just circled things at places that I liked that were healthy, like when I was feeling in a good, healthy mood. So when I say, "Can you get me lunch?" she just picks for me. She won't let me have a hamburger, so that's good.
After work, I went home and got myself a frozen pizza. But — surprise ending — I didn't go DiGiorno! I went with an Amy's Organic cheese pizza. I ate it, watched TV, and then went to bed. And it was worth the wait.