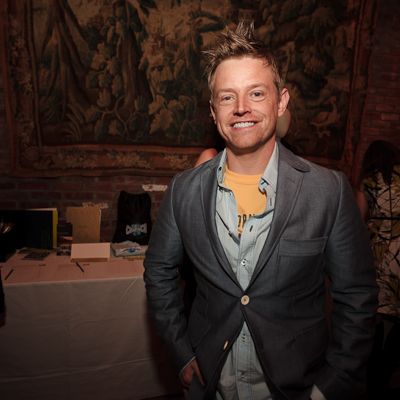 Photo: Jeff Meltz/THE CULTURE OF ME
Big item from the rumor mill today, via Ms. Tablehopper: Top Chef All-Stars champ and our favorite self-deprecating cheftestant in the history of the show, Richard Blais, is allegedly looking to open a restaurant in the Bay Area. He's also, allegedly, house-hunting here, and therefore may be relocating, temporarily or otherwise, from his current hometown of Atlanta. Blais currently owns a culinary consulting company called Trail Blais, out of which has been born the Flip Burger Boutique mini chain, and more recently, The Spence. Meanwhile, he's on tour with his new book, Try This at Home, and he's training for a half-marathon in NYC. Could he be looking to open a more ambitious restaurant, along the lines of BLAIS where he originally made his name, and doing some of the more molecular and creative cooking he did on Top Chef?
The Trail Blais site, which may be out of date, indicates that "conceptual work for new ventures in Los Angeles and Miami is also underway," but the latest rumor about a Bay Area move could make a lot of sense.
Blais, a native New Yorker, cut his teeth at Daniel in New York, and also did stints at The French Laundry (alongside Grant Achatz), and at El Bulli, as he was coming up. He opened BLAIS in Atlanta in 2005, before appearing on Top Chef, and it has since closed. He mentioned in passing in 2011, to Grub Street, that he'd like to open a New York restaurant someday.
We've reached out to his reps for confirmation, and will let you know as soon as we learn more.
Update: While his publicity team had no official comment, Eater Atlanta has it from a source that Blais has put in a bid for a home in the East Bay, and is in talks with potential partners about a restaurant here. [Eater ATL]
Rumors: Richard Blais Opening a Restaurant in the Bay Area, and So Is Al's Beef? [Tablehopper]
Related: Fabio Viviani, Richard Blais Among Chefs Returning for Life After Top Chef
'I Hate Everything I Do': A Goth Musical Tribute to Richard Blais