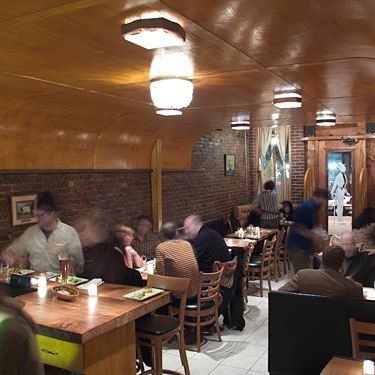 The Good Fork on Van Brunt Street.
Photo: Kenneth Chen
In addition to today's review, Times critic Pete Wells takes a close, collective look at the small, Sandy-damaged businesses of Red Hook, a neighborhood where business owners have been looking to move on. "We don't want people to think," said Matt Lewis, the owner of Baked, told us last fall, "Oh, I don't want to go to Red Hook because of the storm and the damage."
Hurricane aside, Red Hook remains a kind of unique place for eating and drinking, filled with restaurants less interested in competition and more resolved to do something interesting. "What's good for one of us is good for all," Fort Defiance owner St. John Frizell tells the paper.
The results of this can be fun. "Red Hook has stitched together a bunch of little ideas that add up to something big," writes Wells, "something that's become hard to find in other places. It is the answer to those who see Brooklyn as a borough of overeducated pickle briners and amaro enthusiasts."
Among the outliers are the venerable Defonte's and the recently reopened Fairway, which is, of course, part of a chain but often feels little like one; Wells likes its view of the bay. Local producers Red Hook Winery, Van Brunt Stillhouse, Jack from Brooklyn, and Cacao Prieto all get shout-outs; Wells is a fan of the ball fields vendors, Dry Dock, and Home/Made. The Lobster Pound gets high marks for its sherry-rich lobster bisque, and Wells loves the "terrific pork-and-chive dumplings" at the Good Fork. We second that.
Eating in Drinking in Red Hook, Brooklyn [NYT]
Earlier: Red Hook's Sandy-Damaged Fairway Has Reopened
Related: This is Red Hook, One Month After Sandy