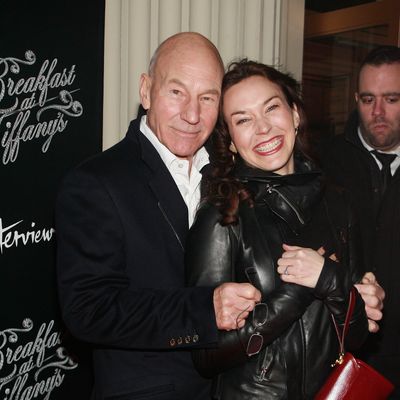 Stewart and Ozell last night.
Photo: Sylvain Gaboury/PatrickMcMullan.com
At last night's Black & White Bash, Interview magazine's party for the Breakfast at Tiffany's premiere, Grub Street bumped into Patrick Stewart and his fiancée, Sunny Ozell, who just so happend to meet while Ozell was working as a server. We talked to them about how they met at Franny's (nirvana for servers, says Ozell), Stewart's tipping habits, and getting Ian McKellen (Magneto to Stewart's Professor X, as X-Men fans know) to officate their upcoming wedding.
You used to waitress at Franny's, right? They're closing on Sunday, to move to the other location.
Sunny Ozell: Yes, it's a big deal! I called it Servana, as in nirvana for servers, because I did like a mercenary tour of duty in New York City, as a creative person working in restaurants. And it was a home for me, and it was a family. I'm really close to everyone I worked with. And it was all about the food, ultimately. And the wine list. And it was just a really special place. I mean, the weekends, it's a tight space, and there were moments where it felt like we were just on the verge of coming unhinged, but we always kept it together.
Stewart walks up, overhears, joins us.
Patrick Stewart: That's right, that's right, that's where we met … Oh, you didn't say that!
SO: I didn't know! [Laughs.]
So what happened?
PS: We met there. That's as far as it goes. [Grins.]
SO: He was at BAM. He was closing it down.
Was he a good tipper at least?
SO: [After a long pause.] He's English, that's all I'll say. [Laughs.] We had to have a little education and come to Jesus about that.
Then or later, when you knew him better?
SO: Later, when I was more comfortable. [Laughs.] Oh, and the special thing about Franny's is the community, because it's like a cafeteria for the neighborhood. I was there for four years; I got to see mommas with full bellies, and their kids are now going into kindergarten. It is a place where people can go and get something special year-round, and the cookbook is coming out and it's going to be fantastic!
And Ian McKellen is going to officiate your wedding.
SO: Because he's a dear friend … he's the best man for the job, you know?
PS: There was only one choice. It was Sunny's idea, and it was a great idea, and I'm happy to say he said yes, without thought. He may live to regret it! But without hesitation, so we're delighted.