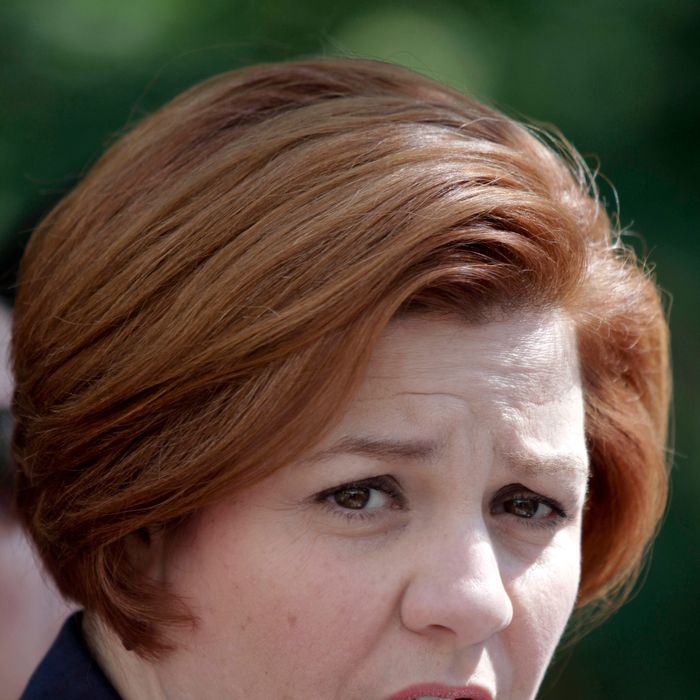 Quinn's office announced a concession last night.
Photo: Bebeto Matthews/AP/Corbis
Mayoral candidate Christine Quinn last night voiced her support for legislation requiring employers to provide paid sick leave for employees, a reversal of her strongly defended position of the last three years, calling it a "good, strong, and sensible piece of legislation." Opponents of the new rules, which would go into effect as early as next year, have long argued that the extra pay doled out to sick employees would be devastating to the city's small businesses. One side effect of the bill, however, is that it stands to drastically reduce the spread of food-borne illness.

Here's how it would work: The initial phase of the rule would go into effect in spring of 2014. Reportedly, only businesses with twenty or more employees would be required to comply for the first eighteen months, and businesses with fifteen or more employees would have to offer paid sick days beginning in October of 2015. New hires, work-study, and seasonal workers are not eligible, and employees need to have worked for their employer for more than four months in order to be eligible. Workers cannot be fired for taking sick days, and businesses with fewer employees will still be required to give workers unpaid sick days. An estimated one million working New Yorkers would be covered by the bill by 2015.
Though Bloomberg is expected to veto the legislation, it is thought there is now sufficient support for the measure within the City Council to override the veto. Another opponent is the National Restaurant Association, the largest trade organization of its kind, which does not support mandatory sick-leave policies because of the implied detriment to small-business owners.
While the purpose of the bill is to prevent the city's workers from losing income just because they are sick, the food-service industry — ranging in scale from cafeteria operations, to takeout sandwich shops, to four-star restaurants — may end up staving the spread of outbreaks, like the incident of norovirus that sickened 63 diners at Noma last month. While New York City already requires restaurant workers who are visibly sick to stay out of the kitchen, many are nonetheless compelled to show up for work, for a wide variety of reasons. Sidelining sick waiters and line cooks by paying them to stay home would simply reduce the presence of contagious agents, specifically in the places where they are most likely to spread, which would in turn reduce the overall number of sick workers throughout the work force.
Quinn Folds, Makes Deal to Give New Yorkers Paid Sick Leave [Daily Intelligencer]
Earlier: America's Sick Restaurant Workers Are Contributing to This Country's Disease Outbreaks