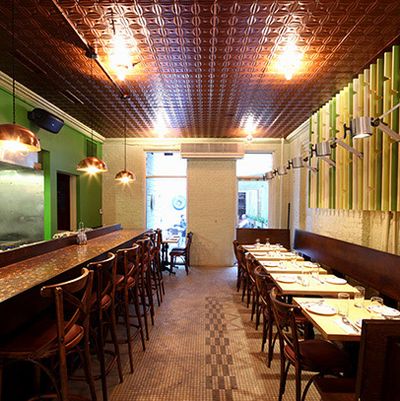 Two stars for Pig & Khao.
Photo: Melissa Hom
While New York's reviewers held their tongues this week, others were on a feeding frenzy, some even reviewing two places. Acclaimed Filipino restaurants go head-to-head, as do buzz-making barbecue joints. But while there is yet another review for the Marrow (now a requirement for critics), there are also write-ups on lesser-known spots like Cocina Economica Mexico. Find out which places were "solid," which were "shaky," and where you should head for your next food adventure, straight ahead.
Pete Wells visited Pig & Khao and Jeepney, two restaurants spreading Filipino flavor downtown. Though he finds Pig & Khao less authentic, dishes have "enough crunch, salt, and acidity to satisfy the most curmudgeonly Top Chef judge," including sizzling sisig and a "delightful" pork and watermelon salad. Jeepney, on the other hand, is "like parachuting into Manila itself," a treat for less-squeamish friends who'll appreciate a "fascinating" pork blood stew and E.T.-resembling duck embryo that tastes of "duck liver mixed with duck breast." For both restaurants, two stars.
Ryan Sutton also filed a twofer about his meat rampage at Mighty Quinn's and BrisketTown. At the latter, the "livery" beef rib is "exactly what you want" — not the pork rib that's "overly tender" (a "quibble," he admits). While flavor and meat supply are problems at the "far-above-average" Briskettown, the opposite can be found at Mighty Quinn's, where "gorgeous marbling" and better salting make its brisket "the best in town." Though chicken is "bland" and beef rib is "overcooked," everything else at this East Village barbecue spot is mighty fine.
Robert Sietsema headed to Tribeca's Lotus Blue and found its Yunnan fare unfaithful to the Chinese province. Crossing-the-bridge noodles, a Yunnan staple, were an "epic disappointment." However, some dishes were "good" and even "quasi-authentic." He enjoyed a banana blossom and mango salad, and thought "artistically arranged" beef shank was braised in the province's pu-er tea "to great effect." But when used in a "nauseating" rum cocktail, the tea was less successful.
At Cocina Economica Mexico on the Upper West Side, Tejal Rao relished Mexican food that's "like a family meal on a good day — hearty, satisfying, and rough around the edges." She recommends cheese quesadillas and antojitos that "shine," and appreciates the use of lesser-known ingredients like "cilantro-esque" pipicha and broccolilike huauzontle. While some dishes scream home cooking done by "an exhausted parent," she decides that hominess is part of Cocina's charm.
Steve Cuozzo digs the "distinct, plush-carpeted" digs at midtown's Siro, also a place to enjoy the "rare luxury" of amply spaced tables. Besides "solid" pasta, he discovers an "impossibly deep flavored" flank steak along with filet mignon and rib eye that are "as good as any" for their high prices. The kitchen can get inconsistent, though: Yellowfin tuna was like any "cheap" sashimi, and cocktail shrimp tasted like flotsam from the "Sandy sea surge." Siro could also do without the Friday night entertainment. Still, this place is "worth fighting for."
Stan Sagner tasted "exquisite samples" of India's Mughlai cooking at Moti Mahal Delux, the first U.S. branch of the Dehli-based chain. At the Upper East Side restaurant, the pakoda are "perfect" palate-pleasers (he suggests sticking to the fritters' "addictive" squid variant) and tandoori is "among the city's best." Cocktail samosas may be "undercooked" and shrimp overcooked in Kadi Patta Jheenga, but an eggplant stir-fry "upstages everything," especially the overly sweet desserts. Come here for "complex, luxurious dishes from the humblest of ingredients."
The New Yorker's Andrea K. Scott is the latest critic to review the Marrow. She says that appetizers like the bone marrow ("a one-two-three punch of umami") and duck schnitzel ("grease-free perfection") are hits, but the mains are less predictable, such as a "chewy" wagyu culotte. Like many reviewers before her, she touts the "delectable" ginger stout cake as a must-order dessert.
Red Gravy, Saul Bolton's high-end Italian restaurant in Brooklyn Heights, is a "big boon to its neighborhood," says Jay Cheshes. Octopus with escarole and pastas like the "fiery" calamarata are "complex, nuanced and distinctive." "Shaky service" and entrées that push $30 don't discourage from dishes that pack on "abundance and flair." Just skip the desserts — a "dense" pistachio cake and Jell-O-like panna cotta make for "a flat-out disaster."