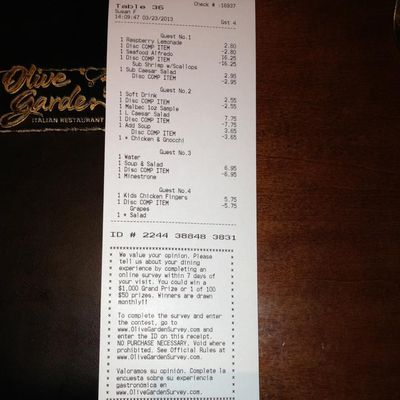 Aw, shucks.
Photo: Reddit
Don't underestimate the power of breadsticks in a time of need. A family gathered to eat at Olive Garden in the aftermath of a fire, and when a manager asked how everything was going, a 3-year-old girl blurted out, "Grandpa's house burned down." Olive Garden discounted each item 100 percent and handed the family a check for $0. Even if the Olive Garden manager or PR rep posted this, as snarky Reddit commenters claim, we want to believe it's true because it's so heartwarming. Check out the full-size version and decide for yourself.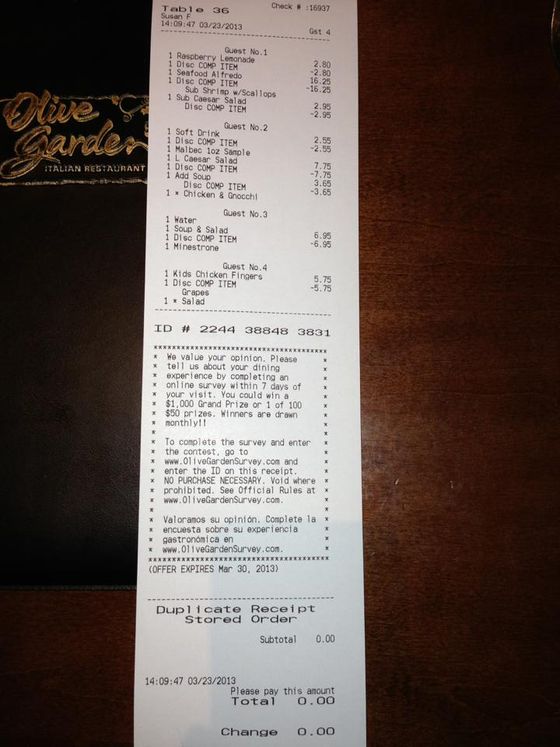 Here it is.Photo: Reddit
Update: Redditors are going way deep on conspiracy theories.
Update #2: We reached out to a rep from Olive Garden, who says the receipt is totally real. Here's what she says, via e-mail:
The receipt is real and was posted by the guests, not by anyone at Olive Garden or Darden. We are always looking for ways to surprise and delight our guests, and this was one of the ways the Olive Garden team in Vernon Hills, Ill., did that last weekend.

My brother, wife, 3 year-old daughter and I went to Olive Garden … [Reddit]