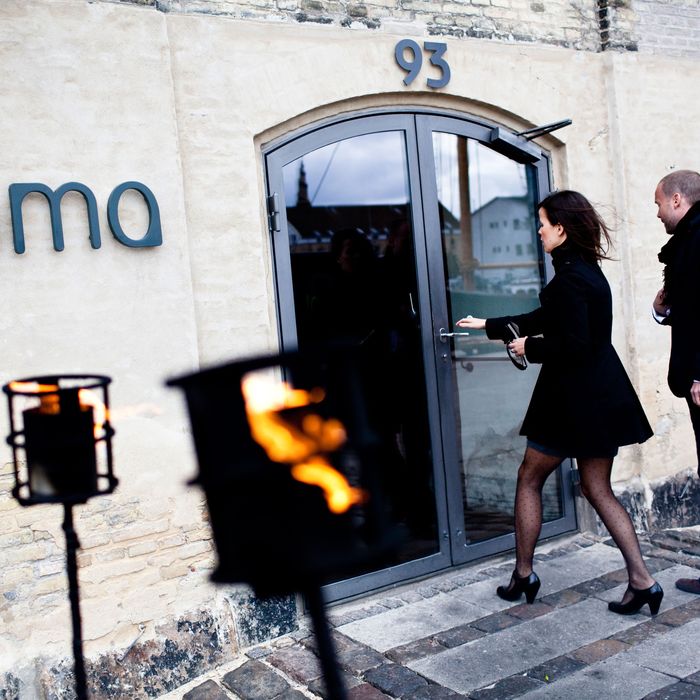 Torch-bearers.
Photo: Casper Christoffersen/AFP/Getty Images
Commenting upon the recent norovirus outbreak at Noma in Copenhagen and delving into deeper waters of microbiology, Lisa Abend talks to chef René Redzepi. "We're a restaurant that's known for perfection," he says, "and suddenly there's a stain on us." You may recall that 63 guests who dined at Noma between February 12 and 16 were sickened by norovirus, a common pathogen typically spread in kitchens and dining rooms by infected workers, and not tainted food.
Abend is no stranger to Noma's kind of cooking. She wrote a book about Redzepi's peers at elBulli, and penned numerous articles and essays about the chef. Her essay about the food-poisoning incident rightfully points out that some media's attempts to exoticize the goings-on at the avant-garde restaurant are misguided, and perhaps even perpetuate incorrect assumptions about food-borne illness by muddling and sensationalizing the facts.
At the very least, one demographic doesn't seem to mind, she reports: After Dan Kanter, who plays guitar for Justin Bieber, tweeted, "I really hope I get to experience the world-renowned cooking of @ReneRedzepiNoma!" the chef, who's been on the offensive, instantly picked up dozens of new Twitter followers.
When the World's Top Restaurant Serves Up a Bug [Time]
Earlier: Oops! Norovirus Infection Reportedly Sickens 63 Customers at Noma [Updated]