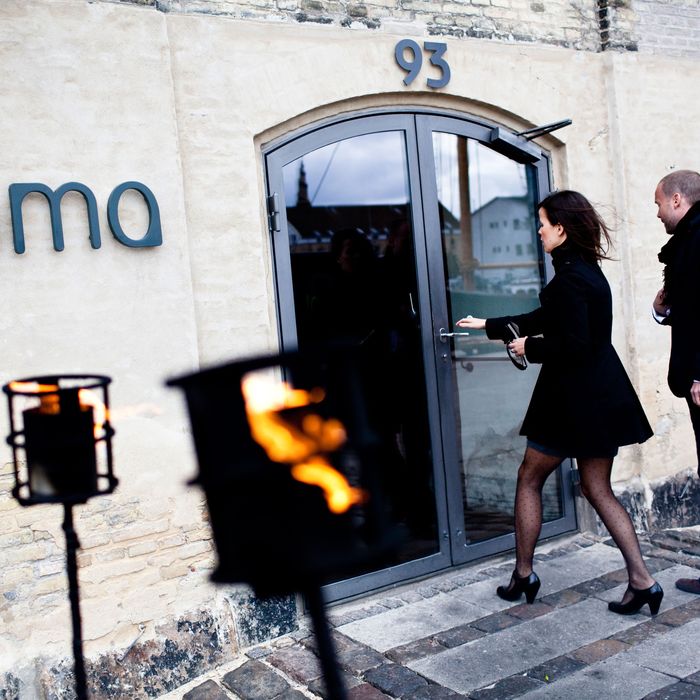 Cleaning up.
Photo: Casper Christoffersen/AFP/Getty Images
Danish newspaper Politiken reports that a norovirus outbreak affected 63 diners who ate at René Redzepi's acclaimed Copenhagen restaurant — ranked No. 1 on the S. Pellegrino World's 50 Best List for three consecutive years — during five days last month. The highly contagious virus is responsible for more than half of all reported outbreaks of gastroenteritis, according to the CDC, and symptoms include diarrhea, vomiting, and cramps.
A "kitchen assistant" is the likely source of the foodborne illness, Politiken reports. The unnamed worker is said to have informed management that he was sick via e-mail on February 15; Noma's staff allegedly did not respond to the employee's e-mail, nor to subsequent messages sent from guests who said they had fallen ill after eating at the restaurant. It is not known whether any of the 63 restaurant customers sought hospitalization during the outbreak.
The Copenhagen restaurant is known for its integrated use of foraged ingredients, including buckthorn, lichen, moss, and insects like ants, grubs, and grasshoppers. None of these ingredients are thought to be the source of the virus, however, which is a common pathogen.
Most epidemics of foodborne illness are exacerbated by infected workers who continue to handle food after they begin to experience symptoms; poor communication between restaurants and authorities worsens an outbreak's effects, as was the case in 2009 at Heston Blumenthal's Fat Duck, when a staggering 240 guests were felled by norovirus. It is thought that the restaurant's lack of compliance with Health Department requests led to an increased risk of infection among the restaurant's customers.
Norovirus infections are also on the rise in the United States, but their effects can be mitigated by increased vigilance and sanitized kitchen surfaces for example. In Denmark, inspectors responding to reports of illness discovered Noma's staff did not "disinfect its kitchen at the right time, in order to limit the outbreak." A sink meant for hand-washing also had no hot water, Politiken reports. Noma may be in more figurative hot water by next week, the paper suggests, as this year's Michelin Guide results are due to be announced.
Update: "We are in the business of making people happy and taking care of our guests, so this is the worst thing that could happen to us," partner Peter Kreiner tells Reuters, adding Noma is cooperating fully with local authorities. "We are extremely sorry about all of this and I have personally been in dialogue with all the guests who were affected and discussed compensation for them."
63 hit by Norovirus at world's Number 1 restaurant [Politiken via plattypants/Twitter]
Earlier: World's 50 Best Restaurants List Announced: Noma Still Tops