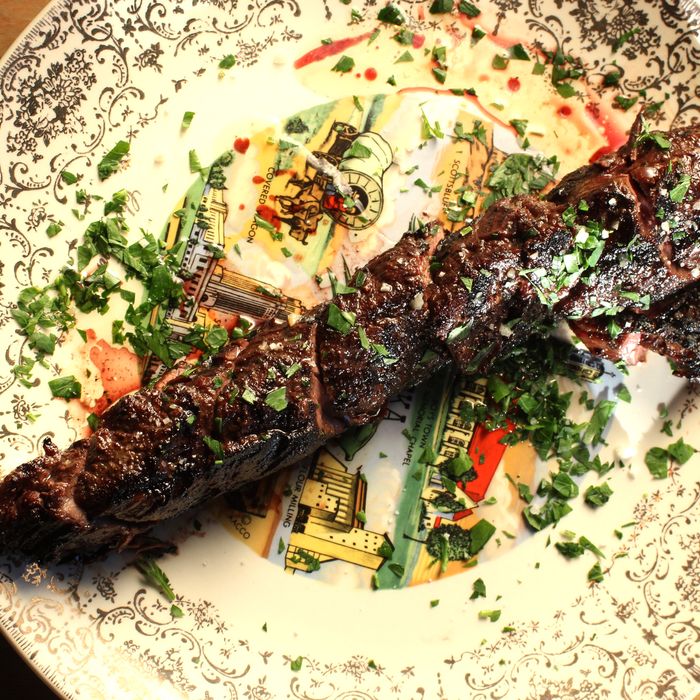 St. Anselm's hanger steak, which will run you $15.
Photo: Melissa Hom
Head out to a buzzy New York restaurant and you'll see it on the menu: a hulking piece of dry-aged beef, "for two," sold at an astronomical price. Minetta Tavern's Côte de Boeuf is $140. The 40-ounce rib eye at the Dutch is a cool $125. Perla's 56-day-aged rib eye is $95. They're all excellent, but they're also damn expensive — and beef prices are expected to increase by as much as 10 percent this summer. What's a budget-minded person in search of properly seared flesh to do? Fortunately, you've got options: Here are truly great steaks around the city that are (relatively) affordable, ensuring that carnivores can get the meat sweats without having to sweat the price, too.
St. Anselm
Hanger Steak ($15)
This Best of New York-winning steak is salted, grilled, and then drizzled with garlic-steeped butter. But even though the preparation's basic, the steak's still packed with flavor. No wonder it's the most popular item on the menu.
The Dutch
Korean-Style Hanger Steak ($29)
It's clear why this is one of the few dishes that has stayed on the Dutch's always-changing menu. You can splurge for a $52 bone-in New York strip for two, or a $125 beef rib eye, but this hanger steak with kimchee-fried rice and a farm egg is almost as satisfying, at a fraction of the price.
Elephant and Castle
Sliced Steak ($18.75)
The West Village neighborhood landmark's hanger steak with merlot ginger sauce is the most grandiose dish on a menu filled with omelettes and crepes. Sometimes you want to eat steak in your sweatpants, and that's okay.
Runner & Stone
Grilled Rib-Eye ($28)
Get ready for a serious, fatty plate of cow. Roasted potatoes and market vegetables are also included, which is nice because they don't distract from the main event.
El Toro Blanco
Carne Tampiqueña ($24)
The Mexican hot spot's Creekstone Farms skirt steak is paired with Mexican cheese enchilada, salsa verde, chimichurri, and cactus salad. It's a traditional preparation that goes particularly well with margaritas and tequila shots.
The Spotted Pig
Skirt Steak ($28)
It's a well-known fact that April Bloomfield doesn't screw around, especially with her meat. She prepares her grass- and corn-fed beef simply with horseradish cream and roasted beets.
Talde
Wok Charred Black Angus Ribeye ($26)
This chunk of meat is accented by black pepper caramel and "holy basil." It might seem like gilding the lily, but holy shit, that sounds delicious.
Le Philosophe
Grilled Flat Iron ($25)
Bond Street's French bistro is serving its steak with frites, sauce Choron (tomato-accent béarnaise), and Bordelaise. The richer, the better.
Freeman's
Filet Mingon ($26)
The tenderloin filet is considered by many to be the king of steaks, and it's hard to find at a reasonable price. This variation is seared and paired with sweet and sour onions, mashed potatoes, and horseradish cream.
Lovely Day
Flank Steak ($15)
This discreet bar-restaurant on Elizabeth Street serves Thai-inspired small plates until midnight. During brunch and lunch, the flank steak comes with market vegetables, Tamarind sauce, and rice; at dinner, scallion mash potatoes and steamed asparagus.
Dumont
Grilled Prime Hanger Steak ($25)
One of the top places in Williamsburg for cheap(er) eats offers a traditional hanger steak with hand-cut fries, Bordelaise sauce, and herby Maitre d'butter.
Saxon + Parole
Hanger Steak ($28)
Here's an easy choice to make: the eight-ounce marbled 28-day aged Black Angus beef comes from Creekstone Farms. Better, in Grub's opinion, than spending $36 on Saxon's seven-ounce fillet.
Buttermilk Channel
Painted Hill Farm Flap Steak ($25)
The Carroll Gardens restaurant gets its name from the Brooklyn farmers who drove their cattle across low tide so the animals could graze on Governors Island grass. Steak is a specialty here, and this cut is plated with roasted bone marrow, buttered toast, and an herb salad.
Cafe Cluny
New York Strip Steak and Frites ($28)
Phillip Kirschen-Clark is now cooking at this West Village favorite, and he's aiming to push the restaurant in a French direction. We doubt he's taking this all-natural, 28-day-aged Angus beef off the menu.
Balthazar
Bar Steak ($29)
Yes, it's easy to spend a fortune at one of the most expensive bistros in New York. But this eight-ounce hunk of flank-cut, organic beef hails from a farm in upstate New York, and it comes with the restaurant's excellent pommes frites.