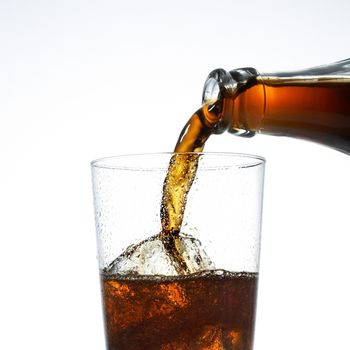 Drink up!
Photo: Nicoloso/Corbis
That was fast: Today New York Supreme Court Judge Milton A. Tingling weighed in on the soda ban and ruled that New York City is "enjoined and permanently restrained from implementing or enforcing the new regulations," according to The Wall Street Journal. In other words, for the time being, there will be no soda ban.
Continuing with the Journal's report:
The regulations are "fraught with arbitrary and capricious consequences," the judge wrote. "The simple reading of the rule leads to the earlier acknowledged uneven enforcement even within a particular city block, much less the city as a whole….the loopholes in this rule effectively defeat the stated purpose of the rule."
The New York Times has the full text of the decision, which hinges not just on the fact that the proposed soda ban's language is confusing, but also on the idea that the NYC DOH exceeded its authority.
Here's your key passage (Note, the "Boreali" referenced is Boreali v. Axelrod, a 1987 case that, in the words of the New York Law Journal, "remains an important warning to executive branch agencies not to infringe upon the legislature's prerogatives"):
In conclusion, the Appellate Division in Boreali, in affirming the trial court's invalidation of the promulgated regulations in Boreali on a different theory, the court expressed concern about the administrative agency having a virtually limitless authority. This court agrees that the regulation herein takes the issue to new heights. To accept the respondents' interpretation of the authority granted to the Board by the New York City Charter would leave its authority to define, create, mandate and enforce limited only by its own imagination. The fact that respondents interpret the Charter precisely to conclude same, tolls the bell on this regulation. The Portion Cap Rule, if upheld, would create an administrative Leviathan and violate the separation of powers doctrine. The Rule would not only violate the separation of powers doctrine, it would eviscerate it. Such an evisceration has the potential to be more troubling than sugar sweetened beverages.
So barring some major turn of events — Daily Intel points out that Bloomberg plans to appeal the decision — it looks like the controversial soda ban will actually not happen.
This post has been updated with new information.
Judge Halts New York City Soda Ban [WSJ]
Judge Invalidates 'Capricious' NYC Sugary Drink Ban [Reuters]
New York State Supreme Court Decision on Bloomberg's Limits on Sugary Drink [NYT]