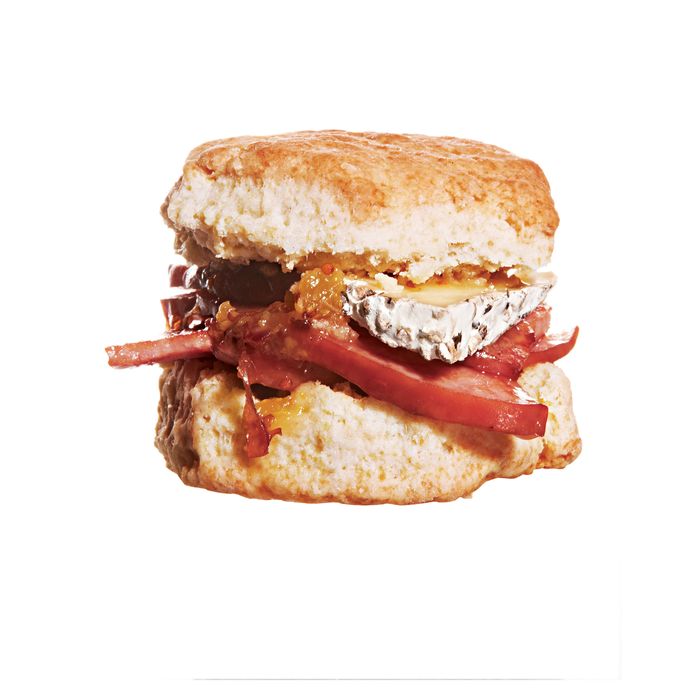 Beehive Oven's ham-and-Brie biscuit.
Photo: Bobby Doherty/New York Magazine
In its five-year existence, the Brooklyn Flea—and particularly its food-centric offspring, Smorgasburg—has become more than a biweekly excuse to eat to artisanally crafted excess. It's both a chronicler and arbiter of current culinary trends ("I tasted four different pimento cheeses this winter," says Flea co-founder and gatekeeper Eric Demby, who also records unprecedented growth in yogurt, hot sauce, and southern comfort food); a vehicle for established restaurants to expand their brands and for restless kitchen grunts to strike out on their own; and, judging by this year's roster, a magnet for disillusioned lawyers desperate to trade the courtroom for the commissary kitchen. When Smorgasburg reopens on Saturday, April 6, it will be located one block north of its prior digs on the Williamsburg waterfront, within the grounds of East River State Park at Kent Avenue and North 7th Street. The slightly larger space allows for fifteen to twenty additional vendors, totaling 110 to 115 each week. These will include the debuts of restaurant brands like Baohaus's congee, Brooklyn Wok Shop's soup dumplings, and Kyotofu's fresh tofu, plus brand-new ventures showcasing flavors from around the world: Daal House's Kerala-style legumes and rice, Deji's Korean pub food and foie gras beignets, NYShuk's hand-rolled couscous, and Scharf & Zoyer's noodle-kugel sandwiches and other revived relics of Jewish dairy cuisine. (Amid all the Smorgasburg hubbub, don't forget the Fort Greene Flea, also commencing April 6, where the defunct Noho sandwich shop Crosby Connection will resurrect itself.) To whet your appetite, here's a preview of six first-time Smorgasburgers.
*This article originally appeared in the April 8, 2013 issue of New York Magazine.
Related:
Five More Outdoor Food Fests for Spring