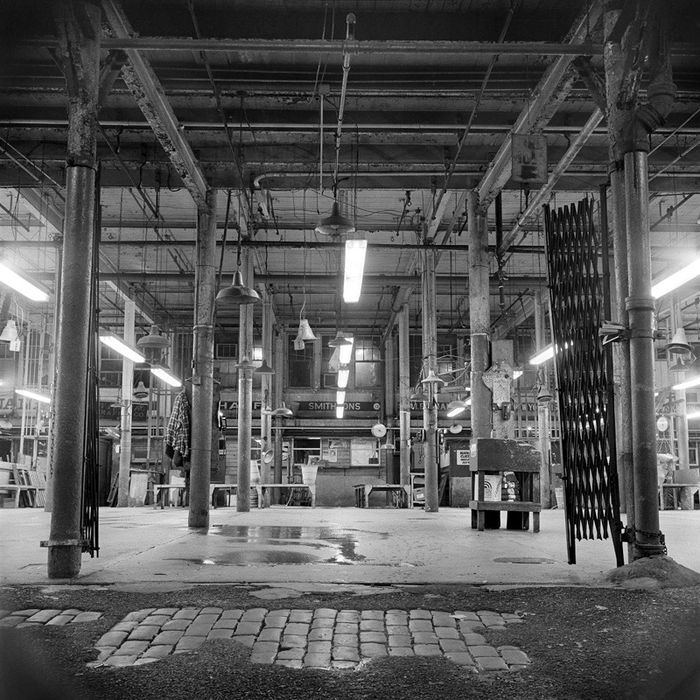 The old Fulton Fish Market "Tin" Building may soon be filled with vendors.
Photo: Barbara Mensch/Courtesy New Amsterdam Market
There's been hardly any foot traffic on South Street since the flood last fall, but chances are you've visited New Amsterdam Market, held Sundays underneath a dingy elevated section of the FDR in front of the old Fulton Fish Market's enormous New Market building, which has stood vacant and grated since 2005 when the fish-cutters moved their wholesale business to Hunts Point. Since then, the market has elicited support and praise from Mayor Bloomberg, City Council Speaker Christine Quinn, and Council member Margaret Chin. Chefs like April Bloomfield, Bill Telepan, and Mike Anthony think it's great. But despite a growing coalition of supporters who believe a public market is the best way to revitalize the historic waterfront after Hurricane Sandy, it's unclear if New Amsterdam Market has a future there.

The New York City Council will meet tomorrow to decide on a rezoning matter, which will determine how the Howard Hughes Corporation, a company that has long-term leases throughout the South Street Seaport Historic District, will be able to proceed with its proposed 250,000-square-foot mall on Pier 17. Though the corporation has announced no designs on the vacant Tin and New Market buildings, both formerly occupied by seafood vendors, activists are worried the buildings will be torn down or turned into malls. LaValva will ask the City Council to make both buildings exempt from becoming throwaway stores, hotels, or condos.
What's so special about this market? As Mark Bittman points out in the Times, though the city is filled increasingly with markets — typically open-air grounds where 50 to 100 types of prepared foods like pulled-pork sandwiches or lobster rolls can be bought — New York has nothing like London's Borough Market or the Reading Terminal in Philadelphia or San Francisco's Ferry Building. As the concept of the market is being subsumed by the precedent of the mall, public space, which is a vital part of any community's growth, is dwindling.
"It is something that's really quite hard to understand," says Robert LaValva, who began holding market events under the name New Amsterdam in 2005. "I was first drawn to the public markets of nineteenth-century New York, which built economies." He says that offering stalls to a mix of vendors — fruit sellers, farmers, butchers, fishmongers — helped nascent businesses that might not have worked in other venues with high rents, but moreover, the market's dynamic form can do more to support regional food economies than most other kinds of businesses. "And the city should always be working to find viable new businesses," says LaValva.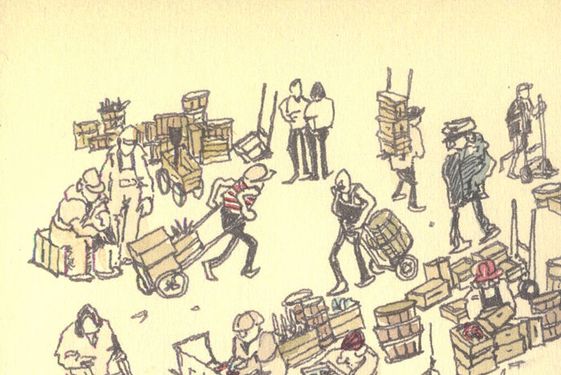 LaValva suggests fresh fish could come back to the site, via the still-functional Pier 18.Renderings: Kazuya Morimoto

To that end, New Amsterdam Market's vendors include, or have included, a cross section of traditional and upstart New York food businesses, from Acme Smoked Fish to Lonestar Taco, from the 97-year-old Orwasher's Bakery to the two-year-old Runner & Stone. In the summer, customers have been known to line up twenty minutes before the market opens to buy from Maggie Nesciur, who spends the fourteen hours immediately preceding each market day visiting a network of local farms to pick only berries, plums, and other fruit she believes are ripest, a concept that may sound ridiculous, but one that may also change your life. (In the interest of full disclosure: I worked as a paid consultant for the market and sold fried clam belly sandwiches there in 2011.)
If the market can gain a permanent home inside the old Fulton Fish Market's building, April Bloomfield, who serves on its board, has expressed interest in opening a small restaurant inside, which might serve a pared-down menu of half-shell oysters and traditional pan roasts. For an idea on how the indoor market may eventually appear, click on the rendering below to enlarge.
Is that an oyster bar in the background? (Click to enlarge) Illustration: Kazuya Morimoto


"With everything else shut down," says LaValva, referring to the aftereffects of Sandy, "we just want to know we have a future in the neighborhood." In the shorter term, this means using the parking lots, getting electricity and running water at the site, and getting official permission to hold more market days, including introducing a wholesale component.
"We want to help set the tone," LaValva explains. "The restaurants are coming in and saying, 'If you could find some things we need, we'd love to source from you. You're right down the street and it makes sense.'" The market would add vibrancy to the recovery process and help grow new businesses. "You could imagine someone wanting to open a cheese shop here," he suggests, "or a knife shop. The market helps give the place a genuine identity that it needs."
To support New Amsterdam Market, sign the petition here or attend the meeting on the Seaport's future tomorrow — more details on that are here.