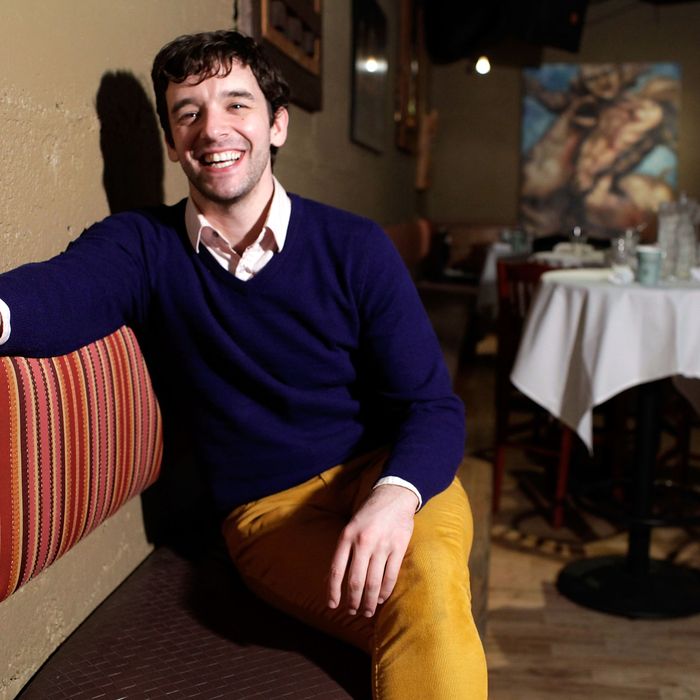 "There's nothing brunchier than a croissant with Nutella. "
Photo: Natali Cass
Michael Urie hasn't had a lot of free time lately: The actor, best known for playing Marc St. James over four seasons of Ugly Betty, plays every role in the new Off Broadway show Buyer and Cellar (beginning previews March 20 at the Rattlestick Playwrights Theater). "It's about a guy who works for an eccentric star, and he works for her in a very strange way, and they develop a friendship," Urie says. When he's not flaunting his multiple personalities onstage, Urie has been working behind the camera; his directorial feature debut, He's Way More Famous Than You, premiered at Slamdance in January, and his documentary Thank You for Judging is available at Chill.com. Like we said, the Texas native doesn't have a lot of time to relax. But when he does, it usually involves food — whether it's vodka pappardelle with partner Ryan Spahn or red-velvet cupcakes with Nathan Lane. Check it all out in this week's New York Diet.
Friday, March 1
I make a mean yogurt parfait, so I had that for breakfast, with fruit, yogurt, and granola. A lot of my food habits changed when I was in Angels in America two years ago and had to get extremely skinny because I had AIDS in the play. So I did a series of colonics and changed my diet entirely, and I started eating fruit in the morning, which is really good for your digestion. So fruit and yogurt is my usual. Unless I'm depressed because I'm working on a one-man show. Because this play is so challenging, I've been treating myself in the morning to egg sandwiches sometimes, so I have been cheating a little bit.
Later, we were rehearsing at the Rattlestick Theater, which is right next door to this awesome falafel place Taïm on Waverly. It's so good. And they have this incredible lavender mint tea. So that was lunch.
My partner Ryan and I had dinner at Hudson Eatery on 57th Street. It's in our neighborhood, and it's kind of a wasteland here. It's a car-dealership district. There's a deli, and a couple blocks away, there are some restaurants, but there's really nothing in a several-block radius except for Hudson Eatery. It's a great restaurant, and we're so lucky to have it. So we eat there all the time. I usually get the rib steak, Ryan usually gets salmon, and we had a really good spicy broccoli.
Saturday, March 2
In the morning, I had rehearsal. Saturday is my Friday because I'm off on Sundays. For now. So I treated myself to a bacon, egg, and cheese with jalapeños and mayonnaise, on flatbread, from Subway. Eat fresh!
For lunch, I went to the Gourmet Garage — you know, that really, really reasonably priced grocery store? I got a chef salad and one of those yummy yogurt drinks that have a cow on the front — Honeybrook, Mellowbrook? Ronnybrook! I like the mango.
That night, Ryan and I went to see Barry Manilow's closing night on Broadway. Beforehand, we had dinner at Southern Hospitality, the Tennessee barbeque joint off 45th Street. We ate downstairs in the lounge, which is actually very cool. At first you're like, No, I don't want to eat in the basement. But it's really cool; there are comfy couches and stuff. I ate a barbeque chicken, bacon mac and cheese, and collard greens. Ryan had pulled chicken, corn on the cob, and cheesy grits. And we got fried pickles. And southern whiskey, cuz, you know.
Barry Manilow was phenomenal. It was my fifth time. It was Ryan's first time, though! And he said to me afterward, "You remind me of him." Which I think is a compliment. I'm not quite sure.
Sunday, March 3
We went to HK, Hell's Kitchen, for brunch. And right nearby on weekends, on 39th Street between Ninth and Tenth, from sun up to sundown, is a giant flea market. I'm obsessed with it. When I'm doing a play in that neighborhood, I love to go there between shows. But I can't have brunch on two-show days, because I can't drink alcohol. But I didn't have two shows on this Sunday! So we went to HK and had their mimosa brunch.
By the time we got there, it was afternoon, so I had a chicken sandwich and Ryan had a lobster BLT. Oh yeah! And we asked if we could get a croissant with a side of Nutella, and they were like, "You know we've got a croissant with Nutella on the menu?" So that's what we had! There's nothing brunchier than a croissant with Nutella.
Then we went to the opening night of Cinderella on Broadway. It's really, really lovely. And afterward we ate Broadway opening-night food at the show: some rare roast beef, some chicken stuff, and some salad. Oh, we ate little red-velvet cupcakes with Nathan Lane.
Monday, March 4
In my building, if you get to the gym early enough, they have coffee and juice and fruit and bagels. It's super nice. And I got there early enough that I was able to have a bagel on Monday morning.
This week, I'm rehearsing the play in midtown on 36th and Eighth. Next door is this deli called Amici 36, which is one of those huge super-bodegas that have seating and pizza and sushi bars and hot bars and cold bars and all that stuff. I could spend an hour in a place like that. I just wander around and look at everything several times. And almost always I'll walk around and be like, I don't want pizza, I don't want a sandwich, I don't want the hot bar, I don't want the cold bar — and I end up with sushi. But I look at everything! Sushi's just always the most appetizing for some reason. So I had excellent sushi and seaweed salad from Amici 36.
Oh, and I also ate snacks from home. I've been taking celery sticks to rehearsal; I just wrap them in a paper towel and put them in my backpack. They're the best things in the whole world. And what's great about them is that they don't get stuck in your teeth, because it's a one-man show, so I'm talking constantly. Nuts are really bad when you're acting. Gummy worms stick to your teeth forever. So celery sticks are a really good rehearsal snack.
We went to dinner at this place Il Melograno that we really like. It's a Northern Italian restaurant. They have an incredible olives plate, and I had vodka pappardelle. They make fresh homemade pastas all the time, which is what I always get. And they have the most amazing cannoli, so that was dessert. The people who run Il Melograno also run this amazing restaurant that's even closer to our house called Il Baretto, and they let me shoot a short film there in December, so we love them very much.
Tuesday, March 5
Tuesday, I had breakfast at the Moonrock Diner on 57th Street. I met with a screenwriter about a project, a very nice guy and a very interesting project. And I had bacon and eggs and toast and coffee and a shot of orange juice from one of those tiny diner cups.
Then for lunch yesterday, I think I had Subway again. Okay, here's the thing: Not only do I like Subway, but when we were shooting Partners — I was on this show called Partners; it was not a hit — I went to the upfronts, where you meet all of the buyers and stuff, and I met the Subway buyers, and I told them I love Subway, and they gave me a bunch of gift cards. It's funny, the idea that when people from Subway meet people from television, they give them free things. They gave me a bunch, so I'm still using them!
I had an Italian BMT on flatbread. I also love the chicken bacon ranch. Those are the two things that I get. And I always get the flatbread, because I don't like too much bread in a sandwich; I like a lot of meat.
We live right by a Western Beef. Hey, it's cheap. It's the opposite of Gourmet Garage! So Ryan went grocery shopping there yesterday, and he got me a rotisserie chicken, so I ate half of that last night for dinner.
Wednesday, March 6
I had Subway for breakfast. Oh, and for lunch — this is exciting — I went to a new place today on 34th Street called Roastown Coffee. It may be my new favorite place. They have this amazing sign that's like, "Coffee. Sandwiches. Noodles. Beer." And I didn't even get coffee! I had soba noodles with chicken that were delicious. Also, they recognized me, which is always nice. So I'll go again. Eventually they'll give me something for free.
After lunch, I had more celery at rehearsal, and I had a little bit of caramel chocolate that my director gave me.
When I got home, I continued eating chocolate. I've been eating York peppermint pieces, which are not good for you, but the serving size makes it worth it. Calories per serving of York pieces is 170 calories. But the serving size is 50 pieces. Fifty pieces! It's amazing.
So I was eating that, and I also cooked myself a steak from Western Beef — I like steak, as you can tell.