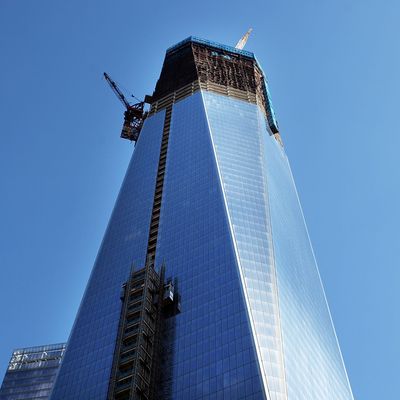 Photo: Spencer Platt/2012 Getty Images
The Port Authority of New York and New Jersey yesterday unveiled its renderings for the three-level, glass-enclosed tourist attraction that will cap off 1 World Trade Center beginning in 2015, City Room reports. The so-called "One World Observatory" encompasses the building's 100th, 101st, and 102nd floors, and includes an undulating wall of video screens that will bombard visitors with the "history of New York City." There will also be a casual restaurant at 1,250 feet on the 101st floor operated by the newly selected Legends Hospitality, a big concessions company known locally for its Yankee Stadium food offerings. So, who's the chef?
As of now, that's unclear. In addition to quotidian food service operations, Legends works a large range of vendors at its properties, ranging from big box steakhouses to the Hard Rock Cafe. Guest chefs and restaurateurs at Yankee Stadium, however, have included Masaharu Morimoto, April Bloomfield, and Sirio Maccioni of Le Cirque, and, in January, Legends announced it had signed a five-year partnership with Jamie Oliver to supply the food for Manchester City Football Club. In lower Manhattan, the group beat out bidders Montparnasse 56 USA and GSM Projects, who were working with chefs Marc Murphy and Danny Meyer, respectively, to land the food and beverage operations at the site.
The Port Authority stipulated that a fine-dining restaurant would slow down the tourist machinery, so while the incoming food operations won't be Windows on the World 2.0, they will have time to grow. Legends has signed a fifteen-year deal with the agency, and the completed tower is expected to draw 3.5 million visitors a year, City Room reports, and bring in approximately $875 million in revenue for life of the contract.