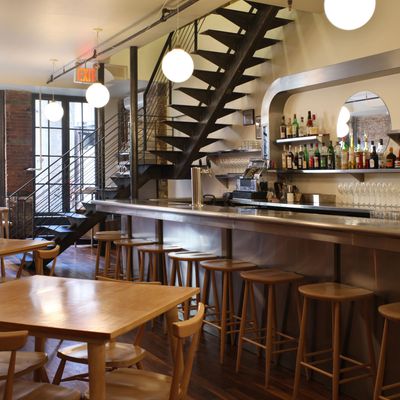 Though reservation-only, Le Restaurant accepts walk-ins at the bar.
Photo: Melissa Hom
Owner Kyle Wittels and chef Ryan Tate have opened the restaurant beneath Tribeca's vendor market, All Good Things. Its format is simple: Dinner guests reserve for a six-course, $100 menu; there are no substitutions and no variations, though Tate, who cooked previously at Savoy and Cookshop, will consider your allergies. How does that sound? Despite the intimations of strictness, Le Restaurant's design is intended to help its customers worry less about the fiddleheads and poultry pedigrees and instead have them really enjoy their meal. "Our approach is really just meant to get people to relax," says Tate. "We work to bring in the best ingredients, and so we want customers to trust us and let go of their inhibitions."
Your menu could feature hedgehog mushrooms with whey and leeks one night, or start with tuna bresola and end with Guinea hen on another. It may resemble the one that blogger Tribeca Citizen ate last week, which featured pork loin with morels and chicory for one course, then ruby red shrimp with dates, Cerignolas, and "walnut crumble" for another. Tate mentions he's been serving monkfish tripe as of late. "It's pretty popular," he says.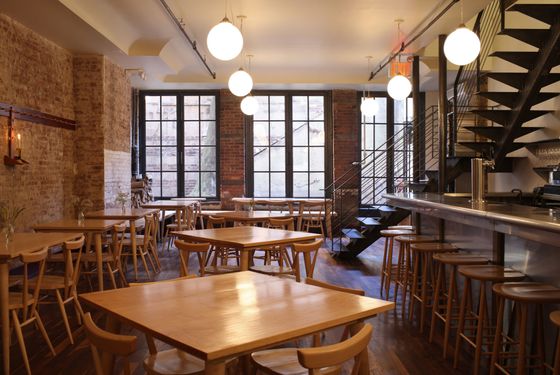 When they say the menu changes daily, they mean it.Photo: Melissa Hom

The restaurant serves a small selection of wines and pours mostly classic cocktails. The bartender may consider variations, within reason. "We may make a ramp martini when they come into season," says Tate, "but we probably won't do a rhubarb gimlet."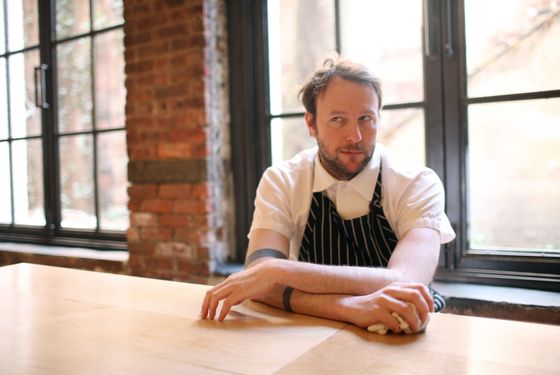 Tate says the idea is to get diners to relax.Photo: Melissa Hom

Mas veteran Amadou Ly, who started a conversation with Tate at the market one day and ended up signing on as pastry chef, is not only making bon bons with foie gras and cherries, but also completely sweet treats for diners to take home at the end of the meal. The restaurant is open from Thursdays to Sundays for now, with plans to add seatings on Tuesdays and Wednesdays in the future. E-mail dinner@allgoodthingsny.com for reservations.
Le Restaurant, 102 Franklin St., nr. Church St.; 212-966-3663