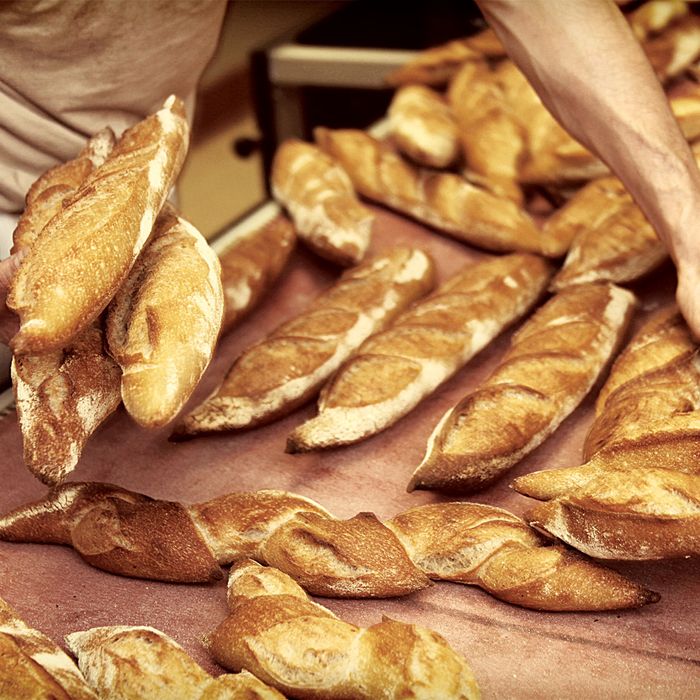 Baguettes from Maison Kayser.
Photo: Celeste Sloman/New York Magazine
The good-bread trend continues today with the announcement that the Upper East Side's Maison Kayser is now the official baker to Le Bernardin. If you're up on your minor-bread-scandal news, you may remember that in a New York magazine profile of Sullivan St. Bakery's Jim Lahey a while back, Lahey, whom no one has ever accused of being a shrinking violet, expressed his opinion that maybe there was some room for improvement in the Le Bernardin bread basket. "Even Eric Ripert and Daniel Humm … they buy the most horrific bread in the world. I tell them, either hire me or poach someone who works for me," Lahey told Benjamin Wallace. It's good news for Le Bernardin's fat-cat customers, as Kayser's stuff is delicious. And although neither Lahey nor one of his minions got the contract, Lahey's opinion has been validated by the Ripper, plus there's still time for Humm to come to his senses if he hasn't already. Pretty much a win-win all around.
Related: Parisian Bakery Maison Kayser Opens on the Upper East Side