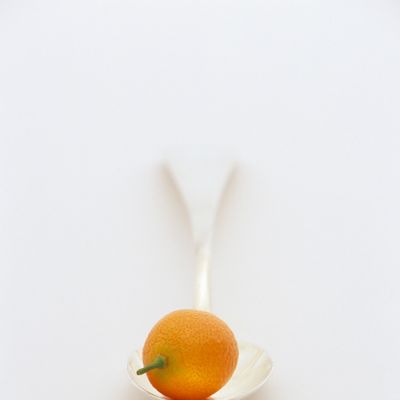 They are not, in fact, "oranges that have gone sour."
Photo: Corbis
It started in Albany late night around 1 a.m., apparently: State Senator George Latimer, a Democrat from Westchester, compared the up-for-vote and overstuffed EFLA bill to a holiday gift basket. "You like the shortbread cookies, but you don't like the kumquats," he said, City Room reports. "But you have to either take the whole basket or send it back to your aunt and say, 'Sorry, I didn't really like this basket.'" The dude said that about kumquats. Then all hell broke loose.
Lawmakers ended up discussing kumquats — literal and metaphorical — for hours. (The bill was approved at 4:15.) The real takeaway, however, is that many of New York State's elected officials do not know kumquats are actually pretty sweet, and some do not know what kumquats even are. "I looked it up; apparently it's a citrus fruit," said Michael Gianaris, a Queens-based Senator. "I don't know why there's so much hostility against it, but nonetheless, there is."
The furor continued today when the kumquat industry struck back. "They don't know what they're talking about," said Maggie Neuhoser, a co-owner of the Dade, Florida–based Kumquat Growers, Inc., in a boldly worded statement. "The longer you chew on the tart kumquat, the sweeter it gets," she said of the misunderstood fruit.
Mr. Gianaris and his peers should know that there are plenty of kumquats in New York City right now, and should they decide to strike while the iron is hot, they may find kumquats deliciously grilled with mussels on the plancha at Willow Road, muddled in gin and tonics at Cata on the Lower East Side, and as a condiment at Bar Jamón in Gramercy. Vinegar Hill House may also have a few kicking around, and if the Senate can wait — and they should — they should get a big municipal bus and head on down to Alder, Wylie Dufresne's new restaurant, which will feature stuffed kumquats on the menu when it starts serving tomorrow night.
In the Wee Hours in Albany, the Talk Turns to Kumquats [City Room/NYT]
Florida grower: Don't dis the kumquat, tart or sweet [Times Union]
Earlier: Wylie Dufresne to Open Alder on March 28