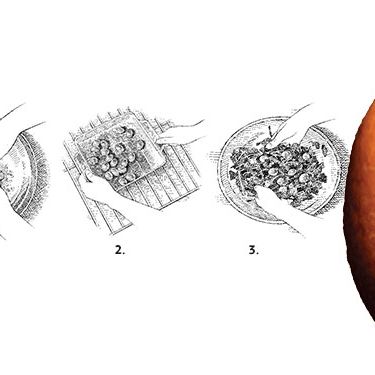 Photo: Victor Prado/New York Magazine; Illustrations by John Burgoyne.
Kumquats are harvested through winter and into early spring and lend their sweet-skinned, tart-fleshed brightness to everything they touch. Recette chef-owner Jesse Schenker likes them in a simple salad enhanced with mint and hazelnuts and dressed with a vinaigrette acidified with another seasonal citrus, the aromatic Meyer lemon.
Jesse Schenker's Arugula Salad With Kumquats and Hazelnuts
3/4 cup whole kumquats
1/5 cup extra-virgin olive oil, plus 1 tsp. for coating
Kosher salt
Juice of 1 Meyer lemon (regular lemon may be substituted)
1/4 pound arugula
3/4 cup hazelnuts, toasted and crushed, skins removed
1 handful fresh mint, washed and picked
Place a shallow pan of water on the bottom oven rack to prevent the kumquats from drying out, and preheat to 400. (1) Toss kumquats with a teaspoon of oil and a pinch of salt, and place them in a baking pan on an upper rack. (2) Roast for 10 minutes. In the meantime, whisk together 1/4 cup extra-virgin olive oil and the lemon juice and season to taste; reserve. (3) In a large bowl, combine the arugula, hazelnuts, mint, and kumquats. Dress with approximately 1/4 cup of vinaigrette, or to taste, and toss well. Season to taste. Serves 4 to 6.
*This article originally appeared in the April 8, 2013 issue of New York Magazine.
Related:
Kumquats Are the Hottest New Ingredient, But Only for the Next Twenty Minutes
State Senator Michael Gianaris on Kumquats, His New Favorite Food