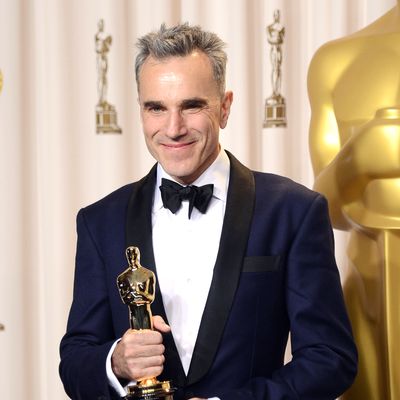 He didn't eat at Lincoln. But the Clintons did!
Photo: Jason Merritt/Getty Images
While Hollywood celebs stuffed themselves into Oscars outfits, some famous New Yorkers decided to stuff their bellies at dinner. Life was but a dining dream at Freemans, where Beyoncé had a meal and some laughs with hubby Hov and Sarah Jessica Parker. Others Daniel Craig and Sir Paul McCartney nixed Oscar plans, as well. Learn where they feasted in this week's roundup of celebrity sightings.

Alta: A few nights before his win, Daniel Day-Lewis was at the West Village tapas bar, clinking wine glasses with a friend and fielding congratulations for his Oscar nomination. [NYDN]
Club XL: Wearing a lace dress and furry hat, Ke$ha downed Patrón and got down with drag queens at the Hell's Kitchen's gay superclub. Earlier in the week, she was at Bill's Food & Drink in midtown having a nice chicken dinner with her mom. [Page Six/NYP]
Elio's: Sir Paul McCartney, Barbara Walters, and Tom Selleck occupied separate tables at the Upper East Side Italian spot. [Page Six/NYP]
Freemans: Jay-Z, Beyoncé, and Sarah Jessica Parker snubbed the Oscars for a long, laughter-filled dinner at the Lower East Side restaurant. [Page Six/NYP]
Lincoln: Chelsea Clinton celebrated her birthday dining with parents Bill and Hillary at the Lincoln Square restaurant. A couple of days before, she was at the Mandarin Oriental celebrating Vanessa Williams's contributions to the arts. [Page Six/NYP]
Minetta Tavern: Daniel Craig and Rachel Weisz turned Oscar night into double-date night at the Greenwich Village restaurant. If the awards show couldn't bother Bond, neither could a fifteen-minute wait for his table. [Page Six/NYP]
Nobu: Tom Hanks grabbed late-night sushi with his co-stars in upcoming Broadway show Lucky Guy. [Page Six/NYP]
Riverpark: Jeff Bridges premiered his new documentary at the Gramercy restaurant, and guests like Jon Stewart, Steve Buscemi, and Matt Dillon joined him. A "sick spread" was had. [Page Six/NYP]
The Royal: Cuba Gooding Jr. got shirtless and snap-happy while partying at the Union Square sports bar. [Page Six/NYP]