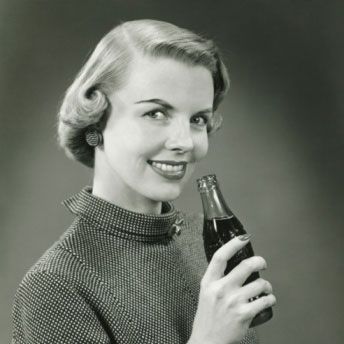 The good ol' days.
Photo: George Marks/Getty Images
(Update: Late Monday, a New York state supreme court judge ruled that the new rules would not go into effect.) This is it. The city's new regulations on large sugary drinks go into action tomorrow. Inspectors will reportedly even be armed with seventeen-ounce cups to make absolutely sure that restaurants comply. Here's some official language, which is admittedly not terribly complicated. But the upcoming plan has caused enough confusion — alcoholic drinks are exempt; Starbucks isn't even going to bother worrying about it; what about milkshakes?! — that people still might not know exactly how the plan will affect their drinking habits. Wonder no more: We've broken it all down into various scenarios, so you can quickly identify your preferred sugar-drink-delivery method and plan accordingly.
If You Guzzle Down Big Gulps:
You still can. The ban doesn't actually affect grocery and convenience stores like 7-Eleven, because they're regulated by the state, not the city.
If You Buy Your Soda at a Grocery Store:
Following the logic above, if you buy two liters of soda at your local Gristedes, you'll still be able to.
If You Order a Large Soda When You Get Pizza Delivered:
But even if you can get two liters at grocery stores, you can't get them with food delivery, so plan ahead if you wash down pizza and wings with a giant glass of Pepsi.
If You Start Your Day With Sweetened Black Coffee:
Baristas can't add more than three to five packets of sugar to cups of coffee over sixteen ounces. If you want extra sweetener, you're going to have to add it yourself. Unless you get your coffee at Starbucks — the company isn't planning on changing its menu until it gauges the response from city inspectors. Starbucks baristas will add more sugar to venti- and trenta-sized drinks, but only if you ask for it first. Dunkin' Donuts is scared of going over the limit, so it's asking customers to add their own sugar to all large and extra-large hot beverages and medium and large iced drinks.
If You Prefer a Sugary-Yet-Milky Coffee Drink:
If your big drink is at least half milk (or a "milk substitute," which is what the government calls soy milk), your expensive latte habit can continue without interference. Drinks like caramel macchiatos and vanilla lattes are safe, but venti Frappuccinos may be endangered — they're 60 percent ice. Dunkin' Donuts is only selling Dunkaccinos and Coffee Coolattas in small and medium sizes. Independent shops might not want to deal with the hassle, so you might find some spots selling smaller sizes exclusively.
If You Really Like Sugary Cocktails:
No change! Booze is exempt.
If You Buy Bottle Service at Clubs:
A $300 bottle of vodka no longer comes with complimentary mixers. That includes cranberry juice and, obviously, sodas, which are usually served in 32-ounce carafes.
If You Chug Sports or Energy Drinks:
They're considered sugary drinks, so if you drink this stuff at restaurants, they'll be sized just like soda.
If You're on a Juice Cleanse:
No change. The ban doesn't apply to 100 percent fruit juices or smoothies, but keep in mind that fruit smoothies that have added sugar (and contain less than 50 percent milk) are indeed part of the rule. Though if that's how you're juicing, you're doing it wrong.
If You're Really Looking Forward to Milkshake Season:
As long as the milkshake is at least half milk, ice cream, or "milk substitute," you can supersize it. How else would you make a milkshake?
If You Drink a Lot of Diet Soda:
Zero-calorie beverages aren't part of the ban, but restaurants with self-service drink fountains aren't allowed to stock cups larger than sixteen ounces, so you'll have to refill your sixteen-ounce cup again and again.
If You're a Health Nut Who Only Uses Agave and Honey:
Nobody cares. Agave, honey, and maple syrup are all treated the same as sugar because they all have calories.
If You're at a Movie Theater or a Stadium:
Bad news: You can't buy soda or sugary drinks that are larger than sixteen ounces. The rule applies to drinks that are prepackaged in bottles and cans, as well as those served from a soda fountain.
If You Own a Restaurant and Make Big Batches of Sugary Drinks:
If your establishment makes something like homemade lemonade in batches, you'll still be able to store it in large containers. But if your drink has more than 25 calories per eight ounces, you can only serve it in cups that are sixteen ounces and smaller.
If You Want to Turn Your Business Into a Soda Speakeasy:
You can get a notice of violation and a $200 fine. But it won't necessarily wreck your business: Violations of this rule aren't scored when determining a restaurant's letter grade, and you can only receive one violation per inspection. This being New York, we're sure at least some owners will skirt the rules.