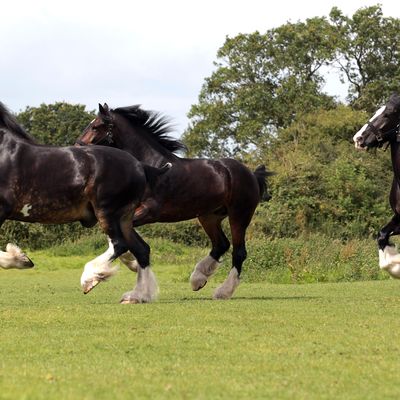 Abandoned and aging horses may be turned into meat.
Photo: Matt Cardy/Getty Images
The Times reports that "several" companies have approached the USDA and asked to resume inspection of horses bound for slaughter, which would lead to the reintroduction of equine meat into foods manufacured for human consumption. In 2011, Congress lifted a five-year-old ban on funding inspections, which was at the time the most significant impediment to the legalized, regulated sale of horsemeat in the United States. Now, the paper reports, at least one slaughterhouse is hot to trot — it's just waiting for the inspectors to show.
As a result of the renewed attention to overturned policy, the first horse-slaughter plant could open in Roswell, New Mexico, within months. Most meat would be exported to Europe, where there are markets that openly and transparently manufacture horsemeat foodstuffs, though a rep for the Roswell plant's parent company suggests that as attitudes toward eating horse change, anything could happen. "I'm sure if markets do develop in this country for horse meat for human consumption," says lawyer A. Blair Dunn, "they will look at them."
Meanwhile, citing an overpopulation issue, horsemeat industry advocates say that Oklahoma may open a horse-slaughtering facility in the next few months, Food Safety News reports. "Abandonments of aging and starving horses have sharply increased in Oklahoma and other western states since last horse packinghouse closed more than seven years ago," according to the site. Meat produced in Oklahoma would also be exported overseas.
Despite the disturbing reports of tainted meat and errant horse-burgers reported from throughout Europe during the last month, horsemeat remains viable, big business in many parts of the world. Since last August, the Times reported on Wednesday, more than 30 million pounds of foreign horsemeat bound for the food-supply system made its way through Houston on its way to international ports. That's more than four tons of horse a month.
U.S.D.A. May Approve Horse Slaughter Plant [NYT]
Oklahoma's Horse Slaughter Ban Dropped for Export Business [FSN]
Advocates Concerned by Shipment of Horse Meat Through U.S. Ports [NYT]
Earlier: Giddy Up: Horse Slaughter Might Be Coming Back to the U.S.
Earlier: The Blame Game: Europe's Horse Crisis Is Giving a Viable Food Source a Bad Name