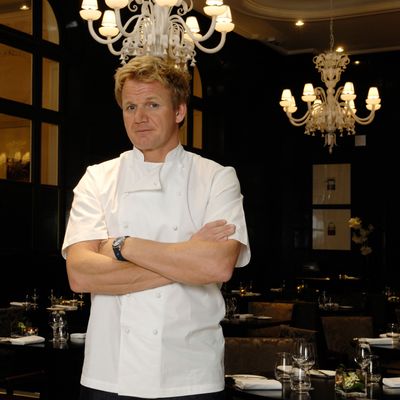 Would a steak house fare better than his previous NYC restaurant?
Photo: Dominique Maitre/Corbis
Gordon Ramsay's presence in New York is currently limited to the restaurant and bar in the London Hotel that bear his name, even though he and his company have nothing to do with its day-to-day operations. But sources close to the celeb chef's team tell us Gordo & Co. are looking to expand their Gordon Ramsay Steak concept — the first opened in Vegas last year — to midtown. In fact, they've been in discussions to take over Jeffrey Chowdorow's China Grill.
China Grill, of course, has had a long, successful run, operating since 1987 in midtown and branching out to Las Vegas, Mexico City, Miami (now closed), Fort Lauderdale, and Chicago, but the New York flagship may soon be changing its concept.
Chodorow has been in talks with Gordon Ramsay's camp about bringing the star chef and his steak house to the vast space, which reaches from 52nd to 53rd Streets off Sixth Avenue, just blocks from the London Hotel, which houses New York's current Ramsay restaurants.
Grub reached out to Chodorow, who has a long history of partnering with big-name chefs (Alain Ducasse, Rocco Dispirito, Todd English), but he remained predictably coy on the subject, saying, "I talk to a lot of people."
Sources on Ramsay's side of the deal confirm the talks have taken place, but nothing's been signed yet. Even if this deal doesn't go through, expect Ramsay-branded meat somewhere in midtown sooner rather than later.
Update: A rep for Chodorow sends along this statement:
We are currently building the next generation of China Grill on Brickell Avenue in Miami which is significantly larger than the South Beach original and slated to open later this year. The restaurant will debut a new culinary program that retains, yet reinvents, the China Grill classics that have made us one of the world's most well-known restaurants — featuring an extensive dim sum program and signature Peking Duck preparations. It is our intention to introduce this new generation of China Grill to the New York market within the coming year and we have been exploring whether the current location on 53rd Street can accommodate the upgrades necessary within its existing footprint. While we are considering the possibility of moving from the flagship location at CBS Black Rock and relocating to a new, larger location, no decision has yet been made. With a 25 year legacy, China Grill is a New York institution and we intend to be around for years to come, whether in our current location or somewhere new. We have had discussions with others about possible new locations and about other uses for the current space but any suggestion that we have made such a deal is simply incorrect.
Related: The 20 Most Despicable Things Gordon Ramsay Has Said and Done, Ranked