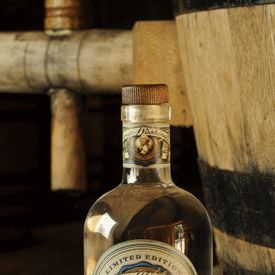 Washington slept here?
Photo: Courtesy of Mount Vernon
Three miles down the road from Washington's plantation is its Distillery & Gristmill, which on occasion produces whiskey based on the founding father's detailed and ancient hooch notes. Next Thursday, the Shops at Mount Vernon and the distillery will simultaneously throw open their doors at 10 a.m. sharp to sell 1,100 bottles of unaged George Washington Rye Whiskey, which is exactly like it sounds, at $95 a pop. The 60 percent rye, 35 percent corn, and 5 percent malted barley is mixed, mashed, and fermented in oak barrels, then double distilled in copper, just like George used to do 216 years ago, when he was the most popular small-batch craft liquor guy in Virginia.
But what if the president wasn't very good at liquor? Death and Taxes points to essay that suggests Washington, despite all his other great accomplishments, distilled "very bad rye whiskey." Are we just looking at history through a sourmash-tinted lens? It appears not. Tastes change, apparently, and we're in decidedly much better hands with Whistle Pig and Maker's Mark veteran Dave Pickerell, who says the new batch is "slightly floral" and "surprisingly sweet."
George Washington's Rye Whiskey Available for Sale! [Mount Vernon]
George Washington's $95 whiskey might taste like crap [Death and Taxes]