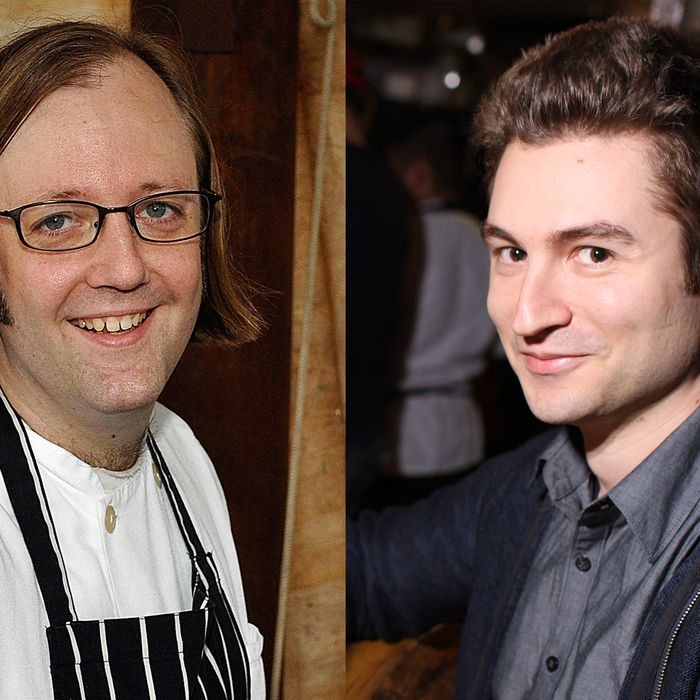 Dufresne, the master, and Stupak, his onetime apprentice.
Photo: Anna Carnochan/Corbis; Melissa Hom
Mark your calendars. Save your paychecks. These are two meals that are going to cause serious FOMO. Wylie Dufresne's reps tell us that he's throwing a big bash to celebrate the tenth anniversary of wd~50 on April 9. This one-night-only dinner will feature dishes created by some of his esteemed alumni, who include Alex Stupak, Christina Tosi, Mario Carbone, and Justin Hilbert. The meal costs $225 with an optional $75 wine pairing, and you can call the restaurant at (212) 477-2900 to make a reservation.
Stupak is hosting his own once-in-a-lifetime meal, too. As part of his Push Project series, San Francisco chef Chris Cosentino (of Incanto) will join Stupak in the kitchen at Empellón Cocina on June 28. Reservations aren't available just yet, but the first 60 people to add their names to the wait-list will get priority access. Send an e-mail with your information and number of desired guests. And expect a dramatic trailer to drop soon.
Earlier: Watch the Trailer for Empellón's 'The Push Project: Part II'