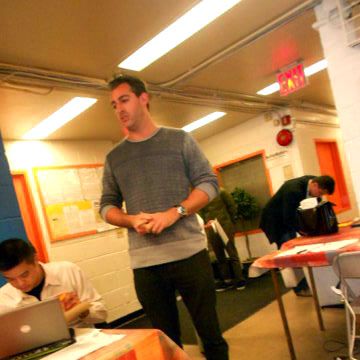 Birnbaum, as he appeared last night at the meeting.
Photo: Mary Reinholz
Following the all-out spectacle of February's Community Board 3 meeting, restaurateur and nightlife entrepreneur Mark Birnbaum last night returned to seek permission from the civic group's SLA committee for a liquor-license alteration at 199 Bowery, which is not only home of the club Finale, but also the General and the recently closed Bow. In addition to licensing issues, the embattled restaurant group is being sued by two condo tenants who claim proprietors routinely play loud music that has been measured at four times the city limit. Birnbaum last night claimed that his EMM Group had attempted soundproofing in the basement and attempted to address other complaints. "We have no sound issues," he said, referring to complaints at the first-floor club Finale.
Despite efforts to make things right — Birnbaum even apologized for operating a basement cabaret without a license — the committee rejected the group's application, voting 5-2, with one abstention, to change his liquor license so that he could merge his basement dance club with Finale.
One dozen neighbors voiced opposition to the plan, and Barry Mallin, the lawyer representing the condo owner plaintiffs, denounced the app as a "back door" ploy by the EMM team to get past the 500-foot rule by changing its method of operation. "They said at first they would have a restaurant, bakery, and ambient music on the first floor. They never told the SLA they would have a 6,000-square-foot [club] with the loudest and biggest sound system in Manhattan. I'm asking you not to be complicit in what they're doing."
Only two people — one of them a condo resident — spoke in support of EMM's plans, and the committee took considerable time before delivering its decision. Committee member Ariel Palitz argued that the EMM partners were good operators but needed to go through a "learning" curve to gain the trust of their neighbors. "I don't believe they wanted to upset the neighbors and I don't believe they want to be in this contentious position," she said.
Ultimately, committee chair Alexandra Militano, who made the motion to deny the EMM app, said that the partners had violated stipulations like those against promoters and advertising. Approving the alteration would also signify "tacit approval" to how they had conducted their operation, she argued.

Incidentally, Birnbaum may have lost on one application, but was approved for an unenclosed sidewalk café with twelve tables outside the General, despite an attendees' objection that it was a "recipe for disaster" that would merely bring more crowds to the swiftly gentrifying and already overcrowded Bowery neighborhood.
Earlier: Is It Curtains for the EMM Group's Finale on Bowery?
Earlier: Bow and Finale Sued for Noise Violations