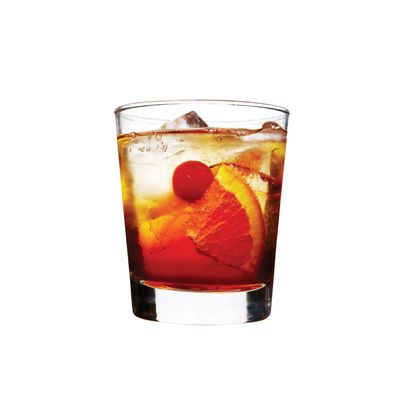 Photo: Victor Prado/New York Magazine
With the arrival of The Butterfly, Eben Freeman and Michael White's take on a Wisconsin-style supper club, comes that state's favorite tipple, the brandy old-fashioned—a Badger State bastardization of an old-fashioned old-­fashioned, which tampers with that revered classic by swapping cheap California brandy for whiskey, muddling citrus and maraschino cherries with the bitters and sugar, and sometimes topping the thing with Sprite or 7Up for that fillip of high-fructose delight. In this haute-cocktail age, that simply won't do. Drinks czar Freeman's remake subs a vacuum-sealed oleo saccharum (basically a long-macerated citrusy syrup) made from Seville oranges and Washington State cherries for the muddling, and tops up the drink with club soda. He also plans to rescue the sullied reputations of the Tom Collins, the whiskey sour, and the grasshopper. If anyone can do it, he can. 225 W. Broadway, at Franklin St.; no phone yet; May.
*This article originally appeared in the March 25, 2013 issue of New York Magazine.
Related:
This Season's Most Anticipated Eats
Franny's Goes Large-Format