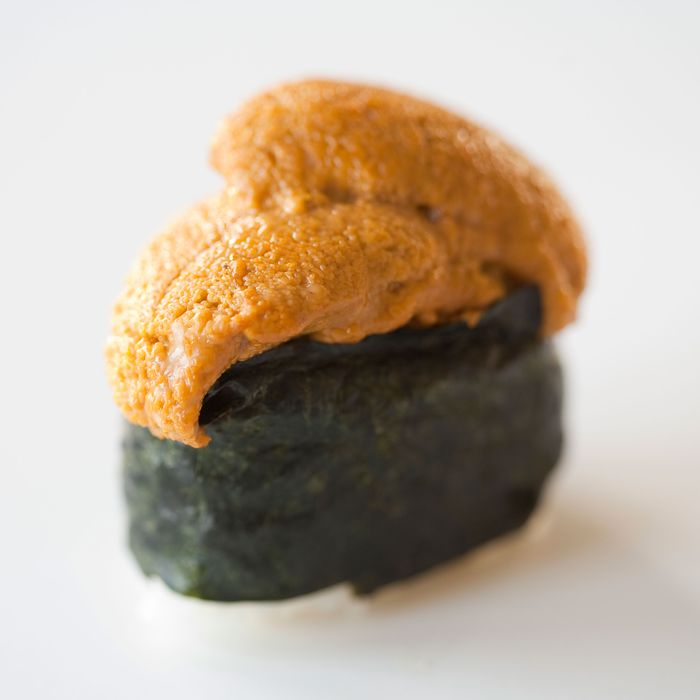 At Eataly, you can get a sea urchin crostino.
Photo: Corbis
Last week was a big one for health news: Mediterranean dieters triumphed over the vegans! Eating well means enjoying fish, meat, and yes, even drinking alcohol. Hooray! Per usual, there are a lot of great restaurants around town serving nutritious food and drinks. We've rounded up your best picks for this week, which include a green-juice-and-vodka cocktail. What'd you expect? This is New York City.
Monday, March 4: Do Pok Pok the Smart Way
Order Pok Pok's excellent renditions of herb salad (which comes with parsnip, white turmeric and betel leaf), smoky grilled eggplant, and turmeric-marinated catfish — all of which feature anti-inflammatory ingredients that make them as good for you as they are spicy and delicious.
Tuesday, March 5: Eat Well, Drink Better
Why not drink a cocktail filled with nutrients? At Watty and Meg in Cobble Hill, your quinoa-kale salad and mussels in lobster broth deserve to be paired with virtuous beverages such as a beet-elderflower cocktail, or "Standard," a chilly glass of vodka garnished with a piece of omega-3-packed pickled herring.
Wednesday, March 6: Eat More Fish
If our oceans are going to be fished out by 2050, you better enjoy the healthy catch while it lasts. At Eataly's Il Pesce, try the octopus with stewed beans, halibut braised with tomatoes, olives, chilies, and capers, and a sea urchin crostino. Perfect if you're following a Mediterranean diet.
Thursday, March 7: Drink Even More Alcohol
Apparently, March is something called National Nutrition Month (There's literally a month and a day for every food and topic imaginable; it's ridiculous). A bunch of bartenders have taken it upon themselves to provide you with nutrient-rich potables to make it through. Some examples: A carrot-and-cilantro cooler at Whiskey Blue, a green-juice-and-vodka concoction at The LCL, and the Avo-rita, a margarita fortified with half an avocado, at Havana Central.
Friday, March 8: Choose La Sirene for a Date
This tiny French BYO brings all-you-can-eat veggies to the table with every entree — so order the grouper and go to town on carrot puree, butternut squash, roasted turnips and haricot verts.
Kate Lowenstein is the senior features editor at Health magazine.