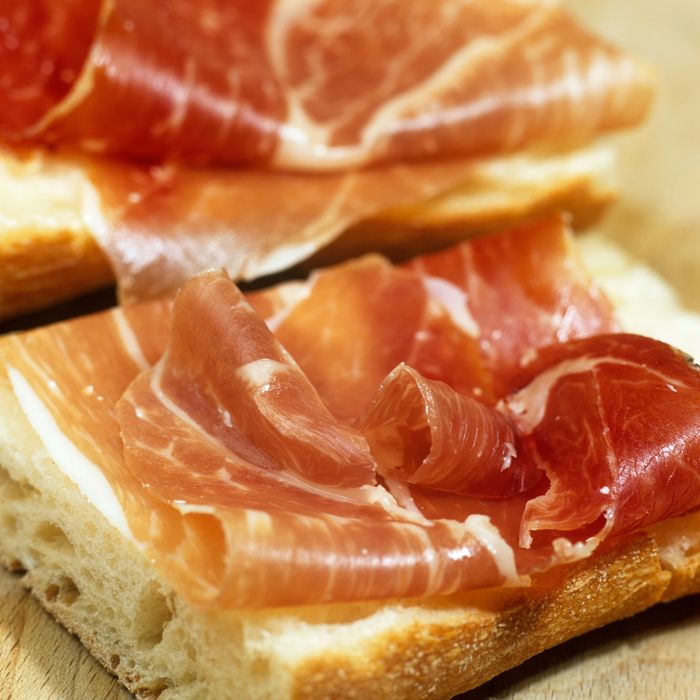 Jamon Iberico is Spanish, but it's on Le Philosophe's French menu.
Photo: Wyatt, Rawdon/Corbis
If you spent your St. Paddy's Day eating bright green food and cocktails, it's time go green … in a different way. This week, try inadvertently healthy fare from a former Momofuku chef, or the food at Clarkson, a brand-new restaurant on Varick Street. You'll get to try a new place while enjoying good food that happens to be good for you — plus both menus are super-vegetarian-friendly.
Monday, March 18: Eat Pop-up Ramen
Quick, while there's still a chill in the air: Get a bowl of Yuji Haraguchi's non-junky, seafood-focused ramen (you might know it from Smorgasburg) at the Bowery Whole Foods. Haraguchi is making his restorative broths with the reliably high-quality bones from the Whole Foods butcher counter.
Tuesday, March 19: Celebrate the Return of Kevin's
This Red Hook restaurant just reopened post-Sandy — go show your support and get yourself a healthy meal in the process. A tomato-based shrimp and corn chowder garnished with scallions is loaded with antioxidants (cooked tomato and raw scallions are two of the most nutrient-filled veggies), while grilled scallops come with omega-3-rich avocado and greens.
Wednesday, March 20: Try Endive and Anchovies at Montmartre
Momofuku alum Tien Ho probably isn't aiming to make health food, but he's accidentally nailed it with a few dishes on this menu. Try the superfood-loaded sunchokes 'bagna cauda,' with parsley, endive, walnuts, and anchovies; and the broccoli, which has been cooked with chicken fat for optimal nutrient absorption.
Thursday, March 21: Go Retro at Clarkson
The menu at this new Soho spot includes shaved raw Brussels sprouts, roasted red beets, and a whole grilled trout. This spacious restaurant is great for groups.
Friday, March 22: Order Ham at Le Philosophe
You made it to Friday; treat yourself to an early start to the weekend with lunch at Le Philosophe on Bond Street. Roasted hake comes with jamon iberico, which has healthier-than-usual fats thanks to the pigs' acorn diet, and the whole-grain cranberry bean ragout.
Kate Lowenstein is the senior features editor at Health magazine