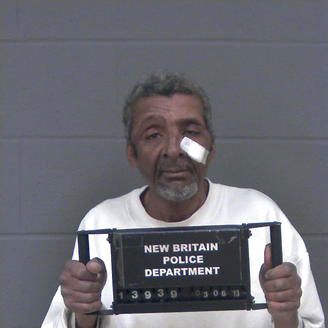 Next time, it's half-decaf, half-vengeance.
Photo: Courtesy of New Britain Police Department
Bad things continued to happen at Dunkin' Donuts stores in Connecticut this week when, on Wednesday, a customer who had been ejected from a New Britain shop for loitering returned to the East Main Street location with an axe and "smashed the inside of the store," CTNow.com reports.
Wilfred Levine, who seems spry for a 63-year-old man, reportedly then jumped over the counter, axe in hand, and informed an employee that he was "looking for the two employees who had just kicked him out." Levine raised his weapon as if to attack the first-responding police officer, but then surrendered. He now faces all kinds of charges and is being held at $750,000 bail. This is the second gonzo doughnut shop incident for the Nutmeg State in the past seven days: A would-be robber at another Dunkin' Donuts was splashed in the face with hot coffee as he tried to climb into the shop via its drive-through window on Saturday.
Man Axes Dunkin' Donuts, Police Say [CTNow]
Earlier: Crime-Thwarting Dunkin' Donuts Worker Sets New Customer-Service Standard