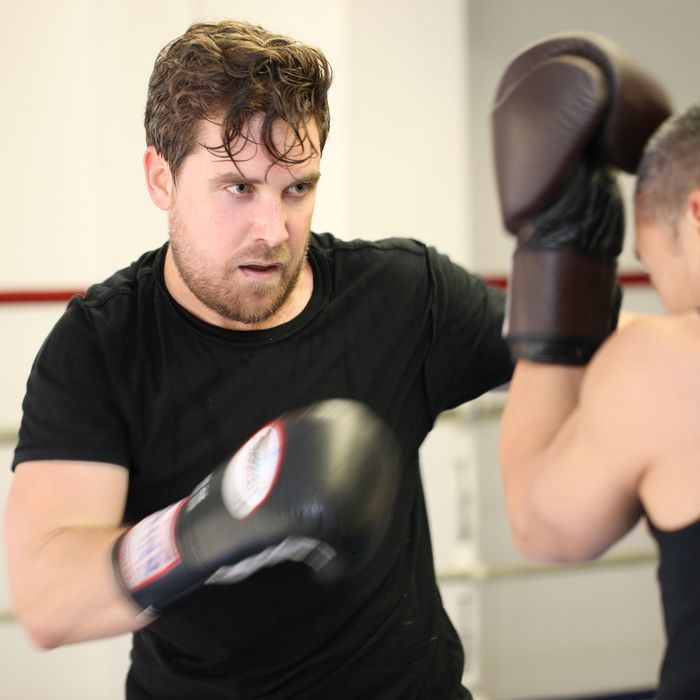 "If I eat within the hour before fighting, I'll fucking throw up."
Photo: Melissa Hom
Between developing dishes and tastings for Dovetail and an as-yet-unnamed restaurant inside André Balazs's Standard East Village, John Fraser eats a lot of different things each day. That's why it's surprising to learn that when he's not on the clock, he tries to stick to a vegetarian diet. "I'm not an animal rights advocate, and it's not political at all," he says. "I just started to ask myself why we have sausage in breakfast sandwiches. I didn't have a good reason, so I started reducing my meat intake." Pretty soon he wasn't eating fish, either. "My brain functions better," he says of the switch. And yet, he's still burdened with a job that allows him to eat amazing-sounding things like chocolate gifts from Jacques Torres, Chinese-style short ribs, and a fried-green tomato sandwich from Mile End. Read all about it — and about Fraser's kickboxing habit — in this week's Grub Street Diet.
Friday, March 22
I woke up and had orange juice and a chocolate-chip Clif bar, and then I went and worked out around 9 a.m. When I came back from the gym, I had coffee and made myself quinoa with mushrooms, spinach, and garlic over a fried egg. It was really fucking good, so I'm going to have to figure out a way to use that on my menu.
I was working all day, and I didn't stop to eat besides sticking my spoon in dishes to make sure they had enough salt or acid or whatever. That quinoa-and-egg situation tide me over.
Later, I met some friends at a bar called Lovers of Today on the Lower East Side. I waited about ten minutes for one Dark and Stormy. The Dark and Stormy sucked. Why the fuck was I out on a Friday night? That's for amateurs.
Down the street from my house, there's a place called Tortaria that's open pretty late. It was like midnight at this point. I had awesome guacamole with no onions and extra jalapeño, and I had one margarita. Then I went to bed. I'm too old for this.
Saturday, March 23
I woke up and did Muay Thai, which is Thai kickboxing. I used to be a marathon runner. But when you get punched in the face, there's something that happens inside of your body where nothing else matters in that moment. It helps wash away stress and makes me a better, more focused person.
I came back and ordered from a place called Taboonette. I ordered the American Breakfast with no bacon and extra halloumi cheese. It's fucked up — the sandwiches are really good, but totally inconsistent. Some days there's arugula, some days there's tomato salad, some days there's a ton of hot sauce — but the pitas are delicious. I also had coffee and a clementine.
In the afternoon, I went to work on some food at the Standard Hotel in the East Village. We did some hors d'oeuvres tastings. I can't really get into what we tasted yet, but it was great. Highlights were the Chinese-style short rib and salmon mousse and grissinis.
I went to Dovetail and worked on a lamb saddle for two, which we're serving with olives, quinoa, and early spring asparagus. I had to steal an end-piece, and I tasted a vegan beet salad with almond milk and coffee crumble. I then had a Core protein bar.
We worked on a Seder menu for Monday, and I had matzo ball soup. Jacques Torres came in for dinner, and he brought a massive chocolate rooster. So I had to have a piece of chocolate from Jacques Torres.
I drank a glass of Calvados when I got home, read The New Yorker, and went to bed.
Sunday, March 24
I woke up and had cereal with berries, orange juice, and coconut water in the morning. And then I went and did cardio on the treadmill.
I had to go to Brooklyn for a meeting with a friend, so I had lunch at Samurai Mama. It's really delicious. I had donburi, which is tempura-fried vegetables over rice. And then I tried this toasted rice tea, which I'd never had before there. It was awesome as well. I screwed around in Brooklyn a little bit, had a glass of wine, and came back home.
I did a bit of work, and then met a friend for dinner at Strip House. I had steamed asparagus, chopped salad, and a baked potato. The classic vegetarian meal at a steakhouse. I hate to even fucking advocate for a chopped salad, but it was delicious. I've been hoping the chopped salad would go away from the American vernacular, but it's going nowhere. I had two glasses of Syrah.
Monday, March 25
I had a Clif bar and a glass of orange juice at 7 a.m. I went back to sleep for an hour, and then went and boxed. I knew it was going to be really intense, and if I eat within the hour before fighting, I'll fucking throw up. So I try to eat, go back to sleep, and then go.
I came back and had coffee, more orange juice, and cereal. Special K, heh.
For lunch, I had a grilled-cheese sandwich on pumpernickel bread with lettuce and tomato from a deli. Grilled cheese is my guilty pleasure. Make it with brie, make it with shitty cheese — I still like it. For me, it somehow replaces that thing in your brain that responds to a big bite of steak or a huge piece of protein.
We did the Seder menu at Dovetail. I tasted the beet salad again to make sure it was good, as well as the matzo ball soup and the brisket. On the way home, I tried South Brooklyn Pizza in the East Village. It was really delicious. I had one slice of margarita and one Sicilian.
I got home and had a glass of Burgundy and read a book, Autobiography of Us. I'm into books. I'm pretty nerdy.
Tuesday, March 26
I went to the gym with nothing in my tummy. I came back and I made whole-grain toast with hummus, scrambled eggs, and arugula on top.
I had a meeting at Mile End Sandwich. I had a fried-green-tomato sandwich and a root beer.
Later I had a Clif bar, and then I went to Dovetail and tasted some food.
Wednesday, March 27
Coffee and a quiche with mushrooms and cheese — I love breakfast. Then I went to do a leg workout. Hate leg days.
I met my friend for lunch at Hu Kitchen. I ate some vegan veggie casserole situation, and rotisserie pineapple with cashew cream. Coffee with honey, too. A lot of beautiful people hang in that place.
I had an acupuncture and healing session. It put me mentally in the shit. It's 30 minutes of energy correction, posture, meditation, conversation, and introspection. I drank some chamomile tea.
No real dinner, but tasted food at Dovetail all night, then I went to Corkbuzz for a glass of bubbly with Harold Dieterle. He's my BFF.